Newsletters
Our River is mailed out quarterly to River Park Foundation members. Membership info
Our E-News is a free monthly announcement about events, news and volunteer opportunity. Sign-up
---
Recent News:
Meet our River Doctor, Doug Taylor
It has been said that many people who work in the environmental field have shared common experiences in their youth. As children, we frequently visited a special place in the outdoors with adults who cared about us.
For me, that place was northern New Mexico — where I fished with my dad and brothers and my camp counselors taught me to appreciate nature. It was a direct result of these experiences that I eventually told my mother I wanted to become a "river doctor" when I grew up. Later, to keep myself motivated while studying for my Bachelors degree in Environmental Studies, I hung beautiful landscape pictures above my desk with a quote from an Eagles song about over development stating "They call it paradise. I don't know why. You call someplace paradise, kiss it goodbye".
I truly and whole heartedly wanted to make a difference in our environment. Today, when I go to work and try to help create a better future for the San Diego River, I know exactly why I am here. It's my destiny, I'm a river doctor!
Trail Advocates Group Forms
The River Park Foundation is looking for a few volunteers to join us in advocating for River Trail projects in the City of San Diego. This will involve meeting with the River Park Foundation Executive Director on a monthly basis on a weekday. The time and date will be set once volunteers are identified.
Trail Advocates will work on specific trail projects to help advance them through to construction. No experience is necessary, just a desire to work with City of San Diego staff and community members to advance a project. You may also end up going to a City Council or other public meeting. The River Trail is the paved or concrete trail that will run from the Ocean to Mission Trails Regional Park in the City of San Diego. East of Mission Trails, the River Trail will be a combination of soft surfaces and paved or concrete ones.
if you have a passion to getting these projects built, then we need you! Volunteer by contacting Rob Hutsel at 619-297-7380. Thanks!
Welcome Katy DeFotis to the Team!
The San Diego River Park Foundation has a new Program Associate, Katy DeFotis. She was brought on board to help with the River Park Foundation's award-winning Health River Healthy Communities program, including leading Clean & Green Team volunteer events. Katy has a degree in Biological Sciences from CSU San Marcos and a passion for Conservation Biology. At CSU San Marcos, Katy was involved in Ecosystem Ecology research and many volunteer activities throughout the San Dieguito and San Diego River watersheds. In 2010, she interned with the San Dieguito River Park, which involved habitat restoration and trail maintenance. She was also a former San Diego River Park Foundation habitat restoration and land management intern and since then has been working on her Master's degree in Biological Sciences at CSU San Marcos.
Katy loves to hike, bike, garden, and preserve the environment and is excited to share those experiences with her new 'river family'.
Welcome Katy!
Graffiti, Spray Paint Cans and Sensitive Habitat, Oh My!
By Shannon Quigley-Raymond
Discarded spray paint cans are a common item collected during the River Park Foundation's Clean & Green Team San Diego River clean-ups. With more than 250 spray paint cans removed during just one clean-up over the summer, Anthony Wagner, a dedicated River Park Foundation member and volunteer, posed an interesting question: what is the impact of the contents of these discarded cans? We found no data on the topic of impacts of spray paint or discarded cans in riparian and lotic ecosystems.
Armed with the knowledge that spray paint has volatile and semi volatile compounds, our graduate student intern Chris Zeier put his nose to the grindstone, combing research and resources until he found a local company willing to help out - H&P Mobile Geochemistry Inc. in Carlsbad. Through collaborative efforts, ingenuity, free thinking and a river clean-up the Spray Paint Cans and San Diego River Habitat study came to fruition. The study results indicated elevated levels of VOCs/Semi VOCs in soils near bridge structures along the river associated with spray paint and with roadway impacts. Click here to visit the healthy river page including a link to the report.
Thank you to the study sponsors, Claude Petty and H&P Mobile Geochemistry Inc, as well as to Anthony for being the catalyst for this study. We would also like to thank and recognize Marty Offenhauer for his technical advice and training, and RiverWatch team members George Liddle, Paul Hormick, Anh Ngyuen, Wendy Kwong and Chris Zeier for their long hours of sampling.
River Parkers Enjoy Holiday Outings Along the River!
Eagle Peak: An Expedition to the Top!
Three adventurous, nature loving souls met up one Sunday in mid-December to hike to the top of Eagle Peak. Anh, Wyatt and Shannon met up at the River Park Foundation's Eagle Peak Preserve, located near the top of the river outside of Julian. They'd planned to meet up with a larger group but, since it was forecasted to rain all day, they were the only ones who'd made it. It was the first time both Anh, a River Park Foundation intern, and Wyatt, a dedicated volunteer, had visited the preserve and Shannon, our staff member who was going up just-for-fun and had been to Eagle Peak Preserve many, many times before. Wyatt told me that he jumped at the chance to visit the preserve with Shannon as she's an expert at identifying animal tracks and vegetation.
They braved the inclement weather and made it to the top of both Son and Son II peaks, all the while enjoying the peacefulness that accompanies a misty day in the mountains. Wyatt said he was particularly impressed by the expanse of land that could be seen from the top – standing on Son peak, he could see 5 waterfalls all at once cascading down a tributary of the river! Highlights of the trip included viewing lots of tracks around Eagle Peak Preserve's upper pond (bobcat, raccoons, and numerous small rodents), and seeing many lichens and ferns on the rocks around the trail. They also saw snow falling on the mountains at the higher elevations, all the way up and back and deer and wild turkeys on the drive home. What an adventurous day for three nature-loving souls. As Wyatt said, "I can hardly wait to get back!"
Click here to view photos of this outing on our Facebook page, generously provided by Shannon Quigley-Raymond.
---
Story of a River Rescuer – As Told by Barbara Palan
Barbara Palan has been a dedicated River Park Foundation volunteer for nearly ten years and a core member of the River Rescue Team since 2009. It's volunteers like her who really make a HUGE impact on the San Diego River and the River Park. Barbara was inspired on a recent rescue mission to write a piece about her involvement. Read Barbara's story below to get the inside scoop on the story of a River Rescuer!
"This morning as I prepare for today's river rescue mission, I get to put on my weathered, protective jeans. Then I don my golden sunshine River Rescuer t-shirt, which every volunteer earns after their third tour of duty. Next, a hat for maximum sun protection and footwear – for me it's usually rubber boots. Mine happen to be black with pink polka dots – that's what was on the shelf at the thrift store. On special occasions, I get to wear waders or sit in a kayak, which enables me to pick up items while in deeper water. No fuss with hair nor focus on 'looking good'. A River Rescuer looks and feels best when it's OK to just show up as is and even get dirty!
I feel excitement as I drive to the pre-determined meeting place – our leader Doug sends out an email with an entertaining and informative description of the mission details a few days in advance. A fellow rescuer, Conrad, says sometimes he can't get to sleep the night before because he's excited, like a youngster waiting to go on an adventure!
Depending on the particular mission and how many River Rescuers show up, we review the targeted area with specifics provided by data collected by RiverBlitz [river survey] twice a year. Shopping carts, floatables, scattered litter, abandoned or active encampments, tires – these are some of the items plotted on the map printout. Doug also gives a brief explanation of how the area we are improving fits in to the larger 52-mile San Diego River Park Trail.
Gloves, pickers, trash and recycle bags are made available. So is water, sunscreen, good old laughter, a bit of socializing for those talkers and solitude for those more introverted types. And off we go – in groups, never alone – safety first!
"For me, ten years ago, Our River, the San Diego River, didn't give me the warm and fuzzies. I didn't even know it existed! So why would I want to protect it, I asked. As a River Rescuer, I'm learning to love Our River by spending time in its watershed to connect, celebrate and care. I'm cultivating a relationship with my expanded, new definition of what it means to be a river – so much more than what I saw at first glance. I'm discovering that Our River is many things to many people."
Learn more about the River Rescuers by watching the River Rescue Team video –click here.
---
Student Spotlight - New School of Architecture
by Elizabeth Hanley Szabo
The River Park Foundation Intern Program has always been something really special. It's a great way for students to contribute to their community while learning valuable skills in their related fields of study, and often also class credit. Last summer the New School of Architecture & Design launched a work study program which allows their students to intern with non-profit organizations and receive a stipend under a federal grant. It's really been a win-win opportunity for us here at the River Park as we've gotten to know and work with some really wonderful students, some who've been with us since the program's beginning.
Jennifer Hicks


Jen has been with us since this past summer 2011 and is on track to graduate with a Bachelor of Architecture degree in 2014.
She's been a great help in scheduling, coordinating, and leading outreach events and most recently has been charged with overseeing the graffiti response team clean-up our Pacific Highway mural off the River Trail just under the I-8 overpass.
Jen went all out – even very generously spending over $70 of her own money to help purchase needed materials!
Thanks to her and our other fantastic graffiti response volunteers and interns, the mural is now good as new!
Damian Roman
Damian has been with us since last spring 2010 and is on track to graduate with a Bachelor of Architecture degree in 2017. He is responsible for helping to solicit new volunteers and also for keeping us in order!
Damian helps with event postings and keeps our many piles, boxes and stacks of outreach material in order and ready-to-go at a moment's notice.
You may often be greeted by Damian at a clean-up or outreach event – always with a genuine smile on his face and a welcoming and knowledgeable attitude!
Dane Torrens


Dane has been with us since last spring 2010 and is on track to graduate with a Bachelor of Architecture degree in 2014.
He wears many different hats at the River Park including helping with our new Community Parks Initiative program to create more greenspace in Mission Valley, as well as helping create outreach and event graphics and working in the field at both the River Garden and Point Loma Native Plant Garden.
Dane has a great eye for design and attention to detail which keep us vying for his time!
Angelic Torres
Angie has been with us since this past summer 2011 and is on track to graduate with a Bachelor of Architecture degree in 2015.
She's been a wonderful help with the Clean & Green Team conducting pre-event assessments and site visits, has been a terrific and much-needed "office organizer", as well as a great helper at outreach events.
If you attended the river clean-up in November, you probably saw her as she was busy doing a terrific job of assisting to lead the event!
---
Calling All River Headwater Trails Photographers
by Elizabeth Hanley Szabo
We've been very fortunate to receive a grant from REI which is enabling us to create a San Diego River Headwaters Trail Guide. This guide will really showcase our most-loved trails of the Upper San Diego River Gorge.
We're looking for photos of the following trails, listed below, to put into the guide. These photos can be of you and/or friends along one of the trails, a shot of the trail itself, or a scenic photo taken from the trail. Your photo can be famous! (And of course we'd be very happy to give you credit too!)
Feel free to send photos along even if you're not sure you're crazy about them yourself, as people are so often skeptical of their own handiwork – we might find one of your "maybes" a gem! If you have favorite trails not on the list, let us know. We will consider it or maybe include it in a future enews. Remember all photos submitted must be ones that you give us permission to use for the guide and other non-commerical uses. Thanks!

Please email Project Coordinator Elizabeth Hanley Szabo with photos and/or questions about the guide.
Trails Which We Need Photos (all within the San Diego River Watershed):
Cuyamaca Peak
Eagle Peak
Eagle Peak Preserve Trails
El Capitan Open Space Preserve
Inaja Memorial National Recreation Trail
Mount Gower Open Space Preserve
Santa Ysabel Open Space Preserve Trail System
Silverwood Wildlife Sanctuary
Stonewall Peak
Three Sisters Waterfalls
Upper San Diego River
Volcan Mountain
William Heise County Park Trails
---
Jim Platel Joins the River Park Foundation Team!
by Elizabeth Hanley
We are fortunate to welcome a new member to our staff here at the River Park Foundation. Jim Platel has come aboard as a Project Manager to help lead the new Community Parks Initiative program. This program was funded earlier this year by the San Diego Foundation to help advance the vision of the River Park in Mission Valley. This program focuses on inspiring skilled volunteers, namely landscape architects, artists, and other creative professionals, to help design and aid in the construction of pocket parks, gateways and greenspaces in neglected corners of the Mission Valley community.
Jim brings a wealth of experience coordinating volunteers and starting up new programs. He established and coordinated the Chula Vista Garden Collaborative under a California Healthy Cities Grant, which brought together city resources, teachers, schools and the community to help build more than 20 school gardens and a network of community resources. He also started a Rolling Reader tutoring program at Clearview Elementary school, recruiting volunteers and work-study students to read with over 80 second and third graders per day. Jim served as chair of the Clearview Elementary School Site Council during a period of 20% expansion of student population, chaired the Chula Vista Elementary School District Advisory Committee and served on that district's Budget Advisory Committee. He's also a baseball fan - he was a board member of the Sweetwater Valley Little League and served as president of the Chula Vista North Pony baseball league, coaching both leagues.
Jim, who grew up in Oklahoma and has fond memories of fossil hunting on his uncle's farm, is also a photographer and has exhibited his work in Guatemala, Mexico, and the United States. We are really pleased to have found Jim and that he will be part of the River Park Foundation staff.
Welcome, Jim!
Camille's Story Anniversary Party Super Helper
by Elizabeth Hanley
I first met Camille when the SDSU Interior Design class she was the teaching associate for came to our office to embark upon a real-world design project concerning the future Discovery Center at Grant Park. Architect Kotaro Nakamura, SDSU Associate Professor and Principal at Roesling Nakamura Terada Architects, has been busy building what Camille calls "Service Learning Programs" at SDSU. In this program, design students get to develop their skills around a live, actually happening, project, obtaining needs and information from non-profit "clients," shaping their design around those needs, and then presenting the final product to the client – very similar to the real-world situations they will find themselves in their future careers. The program both lets students learn more about their community and how to interact with future real clients, and helps the non-profit mock-"clients" by bringing new, fresh ideas to the organization. It's a great win-win experience and one that I greatly enjoyed being a part of.
But back to Camille. She was a HUGE help in putting on this year's Anniversary Celebration. Lucky for us, after learning about us through the SDSU course mentioned above, she was inspired to apply for a summer internship. Camille brought loads of event planning experience with her, as she's been applying it in various ways ever since she was the All Student Body Event Coordinator at her high school. In her words, "It's a natural thing that I really enjoy doing." So naturally, our River Park Foundation Event Coordinator, Sarah Hutmacher, jumped at the opportunity to have some extra help with our 10th annual celebration.
Surprising as it may seem, Camille's major is not in event planning but actually Interior Design and Environmental Sustainability and SDSU, and before that she'd started in Landscape Architecture at Cal Poly in San Luis Obispo. She'll be graduating from SDSU this fall and then plans to pursue a masters in architecture starting in fall 2012. A San Diego native, Camille hopes to continue to be involved with the River Park Foundation in the future – and we will try to hold her to that! She was not only instrumental in this year's celebration's success, but was a real pleasure to work with to boot!
Meet Monty - the River Monster!
by Elizabeth Hanley
There is a python on the San Diego River! Monty, as we've heard him called, is actually an 18 foot long Reticulating Python. He (or she - it's still unknown) has been seen on the north side of the River in western Mission Valley, Mission Valley Preserve to be specific. As Reticulating Pythons hail from the tropical forests of Asia, no one knows how Monty's gotten to call this area home (was he someone's pet who'd always dreamt of living in a preserve?). But he certainly resides here now!
Pythons are dangerous, and Monty's kind is some of the largest known in the world, so PLEASE BE CAREFULL!
That said, the first person who captures a photo of Monty (from a VERY SAFE distance of course) and posts it on the River Park Foundation Facebook page will receive a free River Park t-shirt. Have fun out there, be safe, and keep a lookout for Monty if hiking through the Mission Valley Preserve!
"Source to Sea" – A Mission to Document San Diego's Natural Water System
by Elizabeth Hanley

I originally met Shannon Switzer last October when she walked into our office with a nice new grant award and a lot of enthusiasm, looking to learn more about the opportunities and obstacles involved in photo-documenting the entire San Diego River. Shannon was about to embark on an adventurous project she'd aptly titled "Source to Sea," which was partially funded by the National Geographic Young Explorers Grant she'd just been awarded. Her self-proclaimed mission was to photographically document the health of the entire watershed system in San Diego County (yikes!) in a little over a year (double yikes!). Needless to say, she was ready to get started!
The project goal was to study the intimate connection between the water on land and the water of the coastline, how one affects the other, and how our County's water affects us, as people who live here. Shannon wants to get people thinking about this delicate system, our impact on it, and inspire them to start considering what they can do to help. The Source to Sea project focused on 4 Rivers: the San Diego River, San Dieguito River, San Luis Rey River, and Tijuana River.
Shannon started with the San Dieguito River, as the river with – currently – the most extensive trails. She trekked, along with a family friend, all the way from Volcan Mountain to the ocean at Del Mar, the entire length of the river in one continuous stretch, camping along the way! After meeting the many obstacles of that voyage head-on, such as dealing with how to hike through private and developed land, she realized the other 3 rivers would be better addressed in manageable chunks. As such, she was able to capture some really incredible shots of the San Diego River, along its entire length and at various times of the day and night.
Once she started the project, Shannon realized that a lot of County residents didn't even realize we had rivers in San Diego! Another interesting observation really hit a chord with her along this voyage. Shannon explained that, "As San Diegans we have a lot of beautiful backcountry that we tend to overlook. This project reminded me of how much (backcountry) there is and how little time I've spent out there!" Residents and visitors alike tend to often think of San Diego as primarily coastline and urban development, but the truth is that we have an incredible amount of beautiful and fragile backcountry, land very much worth protecting!
Shannon submitted her final report to the National Geographic Society this past spring, which included writing, photos, and interviews with experts involved with improving San Diego's water quality (including our own Executive Director Rob Hutsel). In October, she'll be giving a talk at the National Geographic headquarters in Washington, D.C., in addition to giving a presentation at a Young Explorers workshop at UCSD. And keep your eyes peeled for a promo piece on National Geographic TV highlighting her and two other explorers!
If you're interested in learning more about Shannon's work and the many National Geographic grants available, or if you'd like to invite her to give a talk to your group or organization, feel free to check out her website: http://girlchasesglobe.com/ or send her an email: shannonleighswitzer@gmail.com
Thanks to Shannon and other emerging conservationists, explorers, and volunteers like her, more and more people are learning about the significance and stunning natural beauty of San Diego's watersheds, backcountry, and the fragile balance of our local ecological system!
Laurie Irwin – the Woman Behind the Property
by Elizabeth Hanley
Laurie Irwin has had the nearly pristine 30 acre property overlooking El Capitan Reservoir in Alpine's Peutz Valley in her possession for over the 30 years. And she was intent upon keeping it pristine and open for conservation until the very end of time. I was fortunate enough to have had a working relationship with Laurie through the process of the River Park Foundation acquiring this property. And what a wonderful woman and wonderful piece of land to become acquainted with!
I'd first contacted Laurie, almost exactly a year ago, to see where her interests in her property lay from the perspective of our land acquisition program. Over the past year, we worked with her and her real estate agent, Steve Porter, and with the support of her children, to make the transaction possible. We couldn't have been more pleased with this win-win situation for Laurie, the River Park Foundation land acquisitions program, and this beautiful piece of fragile habitat!
I spoke with Laurie recently after the transaction took place. Upon asking her how she felt about the land now being conserved and working with us here at the River Park Foundation she explained, "I always thought that this was my dream. I've thought it should always be a park, and I've hung onto it for 31 years. This was always my intention." She said that many people had tried to get her to sell the property for development but she wouldn't budge. Thank goodness for Laurie's "stubbornness" as she calls it – she hung onto her dream and now it's become a reality.
There is still much work to be done, more properties to conserve and more landowners to work with. My experience with Laurie will always be one that I treasure. It's not often you get to work with someone so genuine and with their ideals in so much the same line as yours. But I guess that's fortunately not terribly uncommon when working with a community-based organization dedicated to creating a park and trail system along a river that runs through the heart of your community – one of the perks is, you get to meet an awful lot of great people!
A River Park Foundation All-Star Intern, 3 Years and Counting!
by Elizabeth Hanley
Alan Ramirez started interning with the River Park Foundation in 2008 when, as a high school senior, he dropped by and said he wanted to help out.
As perhaps you well know, if a volunteer asks to help, we put them to work! One of his first experiences was getting the chance to participate in the River Park Foundation's first estuary kayak clean-up.
As Alan didn't have much experience with boats, he went out to conquer the trash with a more experienced volunteer who taught him the fine art of how to paddle and ride in a kayak while picking up all sorts of trash from the river, all while not tipping the boat over!
When he went into school that following Monday, his teachers called him out as "Mr. GQ" because he made it onto the Union Tribune's "Our Region" section front page for Love Your Wetlands Day! After that, we think he was hooked!
Our office, and particularly his supervisor Shannon Quigley-Raymond, has really enjoyed working with him ever since. While we've helped him develop his leadership and communications skills, he's helped us with everything from cleaning up the river, to conducting river surveys, to data entry and even organizing our much-used (and thus fairly cluttered) storage shed!
Even though Alan is busy studying Environmental Engineering up north at Humboldt State University, he still comes back down every summer to share his knowledge and experiences with other young people. Now as a mentor, Alan's worked closely with student volunteers. This summer he's been leading service projects on the River Trail adjacent to Pacific Highway to remove graffiti from the "On the River Trail" mural in addition to cleaning trash and weeds with high school student Jesus. Jesus, who always knew San Diego had a river, really enjoys working along the trail as it has opened his eyes up to all the wildlife along it.
Because of all his experiences with the River Park Foundation, Alan is able to provide new interns and volunteers a meaningful experience complete with lots of anecdotes and stories which he's gained over the past 3 years. Alan had this to say about his experience, "I like interning for the San Diego River Park Foundation because I meet other students like myself and work with people in the community. There are always new activities to work on and the staff is great."
Thanks, Alan, for all your fantastic efforts to help make our community and our River a healthier and happier place!
The San Diego Regional Water Quality Data Portal, Results of a Collaborative Effort
by Shannon Quigley-Raymond
Volunteers of the River Park Foundation's RiverWatch river health monitoring team often hear questions like, "What's the water quality in the San Diego River?", "Which indicators are used in water quality tests?", or "Where are the testing sites for the different agencies collecting samples, and what are the test results?"
For a water quality regulatory agency, or a volunteer like our team members, providing the answers to these questions in a single format that enables a clear understanding and well informed decisions on the management of water, habitat, and recreational resources is no easy business.
However, a recently completely collaborative effort between the San Diego Regional Water Quality Control Board, San Diego River Park Foundation and EcoLayers, Inc. is dramatically improving the ability of regulators, city agencies, and the public to access, view, and query data from state and local agencies, as well as from the River Park Foundation's RiverWatch.
To learn more about this innovative web-based San Diego Regional Water Quality Data Portal, and get the answers to water quality monitoring,
Click Here (PDF File)
.
The Quest for the Top of the River!
by Elizabeth Hanley
This past month, as part of River Days 2011, my husband and I signed up to join the hike to the top of the San Diego River. As you may well know, the river stretches some 52 miles from the mountains to the ocean, starting in Santa Ysabel Open Space Preserve near Julian and carving out a deep valley in the upper stretches – a gorgeous area for hiking and enjoying the outdoors. Our mission that Saturday was to explore the very top!

We were not alone in this quest. Eight others also joined hike leader Sarah Hutmacher (my coworker and fellow hiking-enthusiast here at the River Park Foundation) that cold and cloudy morning in the mountains. One amongst us was particularly keen on seeing our namesake river's source point. Adam, River Park Foundation member and adventurist, was set on finding the very source of the river. He wanted to stand on it – the place where the blue line on the map originates – I loved the idea and wanted in!
Adam was so set on his goal that he'd driven up the week before to find the best way to get to this point. Unfortunately we were not on this particular track that day. You see, the best way Adam could figure to get to this point was to hop a fence on the side of the highway and bushwhack our way to the spot. Since we weren't going to jump the fence, we needed to stick to our original plans!
Although the weather was cloudy, cool and in the 40s when we stepped out of the car, we hiked a good 4 miles towards the river's source. After having a lovely lunch, the sun broke free and the clouds gave way to some extraordinary views. The majority of us were okay at that point to turn around and head back to our warm cars and the temptation of Julian pie, but Adam encouraged us to keep going and see more – and I'm very glad he did. Some of the most beautiful views were right around the corner on the final stretch of our hike.
We all had a great time that day despite not standing on the actual source of the river – although we do think we spotted it from a few hills over. Adam encouraged us to explore how to reach the river's source point next River Days, and we are looking into it. His enthusiasm is contagious, and I'm already looking forward to the Top of the River Hike next year!
Sierra Singles Get a Tour of the River
by Elizabeth Hanley
As some of you may know, the San Diego Chapter of the Sierra Club has many different and wonderful sub-chapters. One of them is Sierra Singles San Diego – a great group of single adults looking for fun and outdoor adventure. I was approached a few months ago by Donna, Sierra Singles member and event host, to give a presentation at their May meeting. I jumped at the opportunity and it proved to be a lot of fun!
We had a great time going over a tour of the San Diego River (from the comfort of Donna's living room!) – some of the attendees had been to some of the sites, such as Cedar Creek and Mildred Falls, yet others had never explored the upper reaches of the River at all.
We discussed the River Park Foundation's land conservation and acquisition program and how they can get involved in the effort to close the deal on an acquisition of 156 acres in Peutz Valley (less than $14,500 left to go!), which will enable us to pursue our goal of creating public access to proposed trails at El Capitan Reservoir.
They were also super excited to learn about the many recreational opportunities in the headwaters – from Santa Ysabel Open Space Preserve (where the river starts), to Eagle Peak Preserve, Mildred and Cedar Creek Falls,and Inja Memorial Picnic Area. After all, there is much to see and do in our river's mountainous source!
It was wonderful to be invited to give such a fun presentation to such an interested and outdoorsy group of people. And what a fantastic and active crowd – they do everything from living room meetings (complete with wine and cheese!), to hiking, to multi-day camping trips. It's wonderful the amount and variety of people you meet when talking about and being out on the San Diego River! If your group is interested in a presentation, contact the River Park Foundation.
A Glimpse into the Life of a Core River Park Foundation Intern...
Maggi Davis 4/29/2011
As some might know, the River Park Foundation's office consists of 6 staff members and with all the work there is to do creating the River Park, we rely heavily on the wonderful support of volunteers! Their meaningful contributions range from helping with clean-ups to leading service projects and river surveys to office support. One of our core volunteer programs, and the one I'm personally the most involved with, is our internship program. Visitors to the office can often find up to 8 interns assisting with data entry, volunteer recruitment, event planning, graphics production, and preparing for outreach, clean-up, and garden events. One particular intern has been especially busy lately, helping (in a major way!) prepare for RiverFest, the big community festival we are hosting on May 15th at Qualcomm Stadium. click here to read the rest of the story
Kayaking El Capitan Reservoir:
Great Company, Stunning Views, Land Worth Saving...3/13/11
March's Conservation Kayak Paddle, as part of the River Park Foundation's Save the Source Weekend, was one of my favorite River Park events to date. I drove out to the reservoir with long-time River Park volunteer and friend Barbara Palan on a somewhat typical San Diego spring morning – thick with fog – but as we turned off the freeway and rounded the bend, the fog finally broke and we caught one of the more gorgeous views of El Cajon Mountain (or "El Cap" as it's commonly known) I've yet seen. We took this as a good sign and couldn't wait to get out on the water!
Marie Humphrey, owner and operator of Family Kayak Adventure Center for the past 8 years, met our group at the picnic benches overlooking the lake. She'd brought all the kayaks and gear (and expert instruction!), which really made the event possible. It was a real pleasure getting to spend that much time with Marie, who runs kayak tours on a weekly basis all over San Diego County, as well as south to Baja California and as far north as Southeast Alaska (my homeland!). She really emphasizes the "family" in Family Kayak Adventure Center, taking children as young as 2 years old safely out onto the water – something really unique that grandchildren through grandparents can do together.
It was wonderful getting to explore the reservoir (or at least the corner of it we were able to cover) and seeing the conservation properties I've been studying on a map in the office for over two years now up-close and from the water. There's nothing like sitting in your boat in the middle of the lake, lazily dipping your hands in the cool water, listening to its soft lapping on the kayak's sides, staring up at some of the most beautiful lands San Diego County has to offer, and knowing that THAT, those very lands, are what we are working to save.
With Marie's expert instruction, and also a great discussion about the El Capitan dam and San Diego's water supply led by Jeffery Pasek, Public Utilities Department Watershed Manager, we really learned a lot and had a fabulous time peacefully paddling and enjoying each other's company. Like Marie stated, "… just think how far we'd have to hike to see so much, a lot of people don't realize how easy it is to get places in a boat." As much as I enjoy hiking, you might now also catch me more often traveling via a smoother and more life-jacket friendly means!
- Elizabeth Hanley, Project Coordinator, San Diego River Park Foundation
Click here to check out photos of the kayak adventure!
---
SNOW ON THE SAN DIEGO RIVER...3/3/2011 a story by Sarah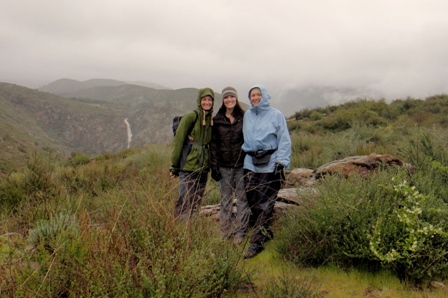 After two hikes last year in June and September on unseasonably hot days (my own mother still lovingly refers to the hike I took her on as "the Death March"), I wanted to plan for a day guaranteed to be cool and lovely!
This is San Diego, after all! I decided on February 26: early enough for cool weather and late enough for some wildflowers, perfect! Wet weather closed the trails at our planned hiking spot, but Rob suggested we hike the West Side Truck Trail out of Ramona and go north along the rim of the River Gorge for views of both Mildred Falls and Dye Canyon Falls (known more popularly as the Devil's Jumpoff).
By the week before the hike, forecasters were predicting the snowline down below 1,200 feet. Seriously? Snow in Ramona? As fast as the RSVP's came in for the hike, I started receiving cancellations.
Nonetheless, on Saturday morning, we headed up the hills to brave the weather. My friend Mollie, co-worker Shannon, and I met up with Penny, a new member and first-time River Romper. Our group was small but intrepid and determined to enjoy this hike!
Once we reached the first crest in the trail, we were stunned by beautiful views. Everything was green and misty. The first of the wildflowers were blooming: wild peonies, chaparral pea, and a few lupines were visible.
The waterfalls were rushing, and in fact, the sound of water followed us on the whole trail, more reminiscent of the rainforest than our climate. We glimpsed (what we're fairly sure was) a juvenile golden eagle. AND…SNOW!! We had heard it was a possibility, but none of us really thought it would happen until the first flakes caught in our hair and on our gloves. What a unique experience.
Penny turned out to be a skilled photographer, and also a pilot! Her photos from the hike (photos are on Facebook so make sure your Facebook is open before clicking link) and from her flight the following day are spectacular!
All in all, it was an incredible day hiking with incredible women, and we were proud to have braved the forecasts for the chance to see the incredible vistas (and rare snow) along the Upper San Diego River Gorge.
I hope you can join us on our next hike or River Romp! Our next hike will be part of Save the Source on March 12. You never know what you'll get to experience! Click here for the calendar of events
--Sarah Hutmacher, Development and Events Coordinator (and avid adventurer!)
---
THE DECEMBER 2010 FLOOD
Anyone who was in San Diego the week before Christmas will remember this historic 2010 flood for quite some time. The rain, which lasted from December 17th through the 24th, dumped a prolific amount of rain on the San Diego River Watershed, an area of over 440 square miles, resulting in the flooding of the River. Roads were closed, some Mission Valley buildings evacuated, and cars were swept downstream. On December 22nd, the stream gauge at Fashion Valley, at 14.01 feet, reached its highest crest since 1980! Click here to read more
Want to receive regular updates and late breaking news? Join us on Facebook. Click Here