Santee's River Park
---
The City of Santee takes great pride in the San Diego River which flows through the center of town. Residential and commercial development surrounds a corridor of natural and urban parks along the entire length of the River in this city. There is an increased visibility of water in this section as ponds have been established which uncover groundwater year-round. Santee's River Park consists of 320 acres along the river with public access park land with six miles of public trails.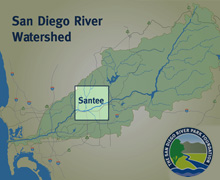 The Friends of Santee's River Park is a chapter of the San Diego River Park Foundation compromised of individuals united in their goal of caring for the San Diego River and surrounding park areas within the City of Santee. They work closely with the City of Santee on a variety of programs. The vision of the River Park system is incorporated into the City of Santee's General Plan.

STAY INFORMED
Sign up for our Newsletter and get up to date information.
Sign up today »
VOLUNTEER NOW
Help us keep the River beautiful for the next generation.
Volunteer now »