Summer Fundraising Drive!
Join the effort to raise $40,000
for the river and parks.

---

Meet Our New Board Members
These volunteers have a range of experience to bring to the board.
---
Read Why Our CEO Has Endorsed the Riverwalk Project.
Details>>


---

Distance Learning Station. Resources for kids learning from home: video lessons, nature storytime and more activities. Click here>>
Starting October 2!
Click here to learn about this free event, register, or donate to support the trash team!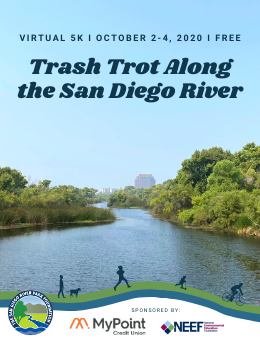 The San Diego River travels more than 50 miles from the mile-high mountains to the Pacific Ocean. Its natural and cultural resources are immense.
We invite you to join us as we endeavor to create a better future for this incredible resource through meaningful actions, volunteerism, and at times, activism.