Join the Clean River Team
Volunteer or donate - together we can work for a trash-free river.
Learn More and Donate>>

---

Getting Closer to Serving 25,000
Students Per Year!
The River Center at Grant Park
Details of this exciting project>>

---
Wildlife Photos Taken by Critter Cameras
Cougars, bobcats, and more!
Details>>

---

Employment and Internships.
We are looking for 2 new team members (part-time)!
Join the Team!
We are hiring>>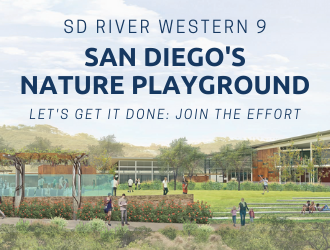 The San Diego River travels more than 50 miles from the mile-high mountains to the Pacific Ocean. Its natural and cultural resources are immense.
We invite you to join us as we endeavor to create a better future for the SD River.