One 20 acre Privately Owned Property Remains
& El Cajon Mountain will be Conserved Forever
You can help grow our acquisition fund to acquire the final property!



El Cajon Mountain Conservation Area

Several years ago we launched an effort to Save El Cap - the beloved El Cajon Mountain which towers over the River.

17 privately owned parcels were identified. Really? Large portions of El Cap were privately owned? YES! We set a goal of acquiring and conserving all 17 properties.

Since then we have completed 5 transactions and now all but one 20 acre parcel is left.

Just 1 property remains to conserve El Cap!


More about El Cajon Mountain
Click Here for Location on Google Map
Next Step: Raise $25,000
If the property becomes available, we will need to have sufficient funds in place to acquire it. We will restrict your donation in our Land Acquisition Fund for this purpose. Pledges are also accepted. Just let us know if we can contact you if we are given the opportunity to acquire the property. Call 619-297-7380 X108 or
send email to Rob
. Thank you!
Donate Online via Secure PayPal. Your gift is 100% tax deductible as allowed by law.
Other Donation Options
1. Print Form and Mail
2. Call 619-297-7380 to donate by credit card over the phone

Questions? Call 619-297-7380 or email us

You can help save this incredible landmark!
Please ask others to join with you to save this incredible natural and cultural treasurer. Join with us today!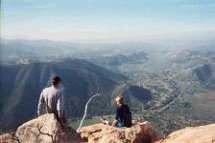 Views from Above Overlooking the Valley
It is also a Popular Climbing Area



The Property is a known Golden Eagle foraging area



The Property is on the Face of El Cap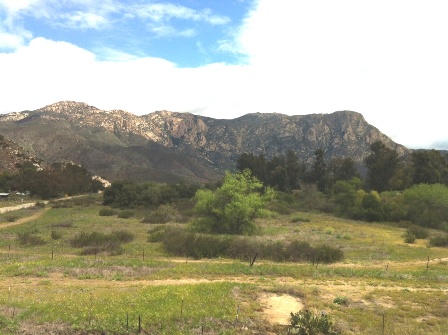 A View of El Cap from near the San Diego River in El Monte Valley


More About El Cajon Mountain Conservation Area

Can you imagine… your donation of $20 or more can help protect this beautiful land forever!


Donor Appreciation
$20 - $99: Receive an invitation to the acquisition celebration and be listed on this web site for 6 months (if desired)
$100 - $499: Get a Save El Cap t-shirt (while supplies last), plus above.
$500 - $999: Be recognized on a Donor Bench (placement to be determined)
$1000 - $1999: Be recognized on a dedication sign within our El Cap Preserve, invitation to join Conservation Society, celebration invitation, web site listing (if desired)
$2000+: Receive prominent recognition on the preserve dedication sign, invitation to join Conservation Society, celebration invitation, web site listing (if desired)

Other Current Projects
South Rim Small Parcels Project
We continue to work to acquire through donation and purchase, small properties remaining in the South Rim Unit of Eagle Peak Preserve. Your support will enable us to continue to work on this important effort!

READ MORE





---





Boulder Creek #3 in the Eagle Peak Conservation Area

Did you know there are wild rainbow trout in San Diego County? You can help us protect a cold-water stream where the trout can be found living year-round.

In 2013 we completed our second acquisition on Boulder Creek. Now that the land has been acquired we are organizing volunteers to help restore it and turn it into the Fisherman's Camp Field Station.
READ MORE

Donate today to support these important projects! If you prefer, you can tell us to apply your generous gift to where it is most needed.

Your donation of $20, $50 or more can make a difference in protecting these lands!

For more information on any of these projects or how you can help, contact our President and CEO, Rob Hutsel rhutsel@sandiegoriver.org or call (619) 297-7380.
THANK YOU
Donors!




SPECIAL THANKS
To Wildlife Club members who provide important ongoing support through monthly donations starting at just $8. Thank you!
Our sincere apologies if we have made an error, please let us know so we can correct it.

All donations are tax deductible as allowed by law. We are a 501c3 public benefit nonprofit.
EIN 01-0565671

Less than 10% of your donation to our acquisition fund is used for administrative or fundraising expenses.

.









STAY INFORMED
Sign up for our free Newsletter and get up to date information.
Sign up today »