Make a Year Ending Donation and Have 2X the Impact

As a nonprofit, we rely up the support and generosity of others to create the positive change we all seek so that the river and its incredible ecosystem thrive. Your donation supports taking action through our many programs and project.
And now thanks to a generous couple who support our organization, your donation will go twice as far as they will match every dollar received up to a total of $15,000!
There are several ways to make a donation:
OTHER WAYS TO DONATE


VENMO @sandiegoriver

By Mail
Print Out This Form (PDF) or mail a donation to
The San Diego River Park Foundation
4891 Pacific Highway, Suite 114
San Diego, CA 92110
Donate by phone 619-297-7380
We can take your credit card over the phone or answer your questions
Gifts of Stocks and Mutual Funds click here for instructions
---
As a 501c3 nonprofit (EIN 01-0565671) we depend upon your generosity. While Foundation is in our name, we are a public benefit nonprofit, not a large private foundation. All donations are tax-deductible as allowed by law.
We are committed to our donors and do not trade, sell, or share your information.
Read our complete Donor Privacy Policy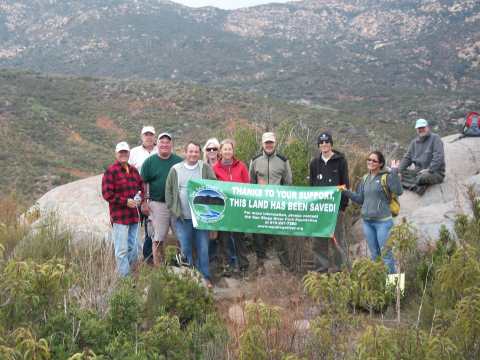 Your donation is used to support all of our programs and provides support to address emerging needs and opportunities. Our Annual Fund supports programs which conserve and care for wild places that wildlife such as cougar, bobcat, deer, badger, golden eagles and more depend on.
Your donation also provides meaningful opportunities to connect people with nature and advance a river-long park and trail system so more people can enjoy the beauty of the outdoors.


---


Do you prefer to focus your financial support on a specific program or project?
You have the ability to focus on what matters most to you. We have listed a few of our highest priority needs. There are always other opportunities to have an impact so if you don't see something of interest, please contact us, and we would love to learn more about what you care about.




Our Current Priorities for Directed Donations
River Center at Grant Park - Campaign to open the facility!
Join the effort to create a river and wildlife education center in Mission Valley.
Learn More



---




Help Rebuild the Land Acquisition Fund
More than $50,000 from this fund was used to complete the Lillian Hill and other recent acquisitions. Your gift today can have us ready to pursue the next opportunity to acquire and preserve at-risk open space.
Learn More

---
Trash-Free River Campaign
We believe all rivers should be trash free. Sadly, an estimated 1 million pounds of trash enters the San Diego Riverbed each year. Your gift will support efforts to change this. We organize 2-3 cleanups every week, work with landowners and public agencies, and advocate for policy changes to reduce the flow of trash into the river.
---
As a 501c3 public benefit nonprofit - 100% of your donation will be tax deductible as allowed by law. Our EIN is 01-0565671.

Please contact Pat Rice at 619-297-7380 or by email to discuss how we can help you meet your philanthropic goals.
Thanks!


---
LEARN MORE
about


Wills, Bequests and Planned Giving


IRA Mandatory Distribution

Monthly Giving


---


Thank you for your generous donations!

Cerity Partners
Foundation
Armin & Rhea Kuhlman
Joseph Corones
Michael Thomson
Frederick Ashcroft
Robert Cadman
Rita-Marie Kafalas-May
Suzanne Mello
The dandelions Montessori
Anna Maria Lergoudaki
The Honorable Jack and Laura Minto
anonymous
Hans Straub
Anthony Swanson
Nuri & Ann Ozgunduz
Jason Folkman
Heidi Gutknecht
Dan & Rita Conaty
Stacey Berlangiero
Victoria Call
Monica Fuentes
Terry Burke-Eiserling
Ron Grant