Give A Tree - Support Kids Learning About Trees
---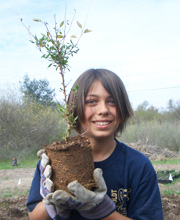 Trees play an invaluable role in keeping the River's ecoystem healthy and vibrant. They purify the air by taking in carbon dioxide and releasing oxygen, and can help to offset the carbon footprint of our region. They provide food, shelter, and refuge for our native fauna. Native trees, such as oak, sycamore, cottonwood, Jeffrey pine, and elderberry, have been an important element of the River's ecosystem for thousands of years, and continue to be a beneficial element today. Plus, they are beautiful!
On April 21, 2019, we launched the 100 Tree Initiative to support 100 students participating in this program this fall.
Our Tree Fund is used to support kids connecting with nature. The kids plant the native trees along the River and in our Preserves and learn about caring for them. You can donate to help plant trees, or donate in the name of a friend or loved one.
$20: Support the Tree Fund.
A donation of $20 to the Tree Fund will provide support for a kid to plant one tree as part of our education program. Donate for one or more tree! This makes a wonderful gift! For gifts, we can send you or a gift recipient a card acknowledging the gift (it can take 7 -10 days to send the card, so please contact us if you need it sooner). Please make sure to include the name and address where you would like the card sent.
Dedicated Tree - Sorry we don't currently have any opportunities available


There are many ways to give!
Online: Click "Pay Now" to donate online using PayPal.
Credit Card by Phone: Call us at (619) 297-7380 to make a donation over the phone using a credit card.
Mail: Download this form, check the box for "Other" and fill in Tree Fund. If you would like us to send a commemorative card acknowledging your gift (as described above), please make sure to include the mailing address and recipient name. You can mail the completed form with a check or money order to TSDRPF, P.O. Box 80126, San Diego, CA 92138.
Thank you TOYOTA OF EL CAJON for your support of planting trees! Every time someone buys a car at Toyota of El Cajon, they make a donation to support planting of a tree at one of the San Diego River Park Foundation's preserves or along the River.
Very Cool!
Thank You
!
San Diego Fly Fishers
Carolyn Barkow
Cheryl Reidel
Naomi Gary
Jeannette Poling
Michelle Theoperasmorg
Carrie Danielson
Joanie Crawford
Rob Hutsel
Laurie Gibson
Carla DeLellis
Marilyn Bynum
Mary Parish
Peg & David Engel
Jean Hemingway
Rita-Maria Kafalas-May
Angela Kilman
Linda Hervey
Lesley Randall
John Burke
Julie Stollenwerk
Phyllis Berger
William Simmons
Carrie Coates
Jodi Masumoto
Jeff & Emilie Mason
Patricia Roberson
Glorene Franco
Elle Arnot
Karen Lane
Alicia Hopkins
Nancylee Friedlander
Terri Bennett
Maureen Ostrye
Paulette & Jerry Begin
Elaine Wilson
Derek Loranger
Moazzum Bajwa
Linda & George Greer
Marilyn Bynum
Scott Crellin
Wade Blomgren
Lindy Harshberger
If we have made any errors in this listing, please let us know so we can correct them right away. Thank you.

FRIENDS MATTER
Become a Friend of the San Diego River Park Foundation and invest in the future of the River.
Learn more »