Neighborhood Groups and Gardens
Get Involved With the River Park in Your Community
---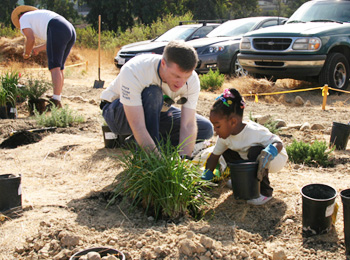 There are many vibrant communities along the River that have rallied to create and care for special places. Ranging from water conservation and native plant interpretive gardens, to ecological restoration areas and public parks, these sites highlight the River as a resource and provide a place for the community to explore nature in their own backyards.
There are many of these wonderful groups in the watershed, and there are a few with which the River Park Foundation is involved. Whether you live, work or play nearby, we encourage you to visit and learn more about these neighborhood groups and gardens! Click below to check out the group in your neighborhood:

FRIENDS MATTER
Become a Friend of the San Diego River Park Foundation and invest in the future of the River.
Learn more »
VOLUNTEER NOW
Help us keep the River beautiful for the next generation.
Volunteer now »