The San Diego River Trail
---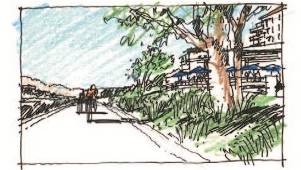 The San Diego River Park Conceptual Plan envisions a trail system from the mountains to the ocean. The main trail is called the San Diego River Trail, a multi-purpose trail and pathway for pedestrians, bicycles and other users. The vision of the River Trail includes equestrian users east/upstream of Mission Trails Regional Park into Santee, Lakeside and beyond. This connected system serves as the unifying thread for the San Diego River Park system and will offer recreational opportunities and access to park facilities and nature, in general.


NOTICES

none currently


PRIORITY PROJECTS
West Valley Crossing - Mission Valley
To extend the 3.75 mile estuary segment across the River to connect it and Sefton Park with Friars Road and the Mission Valley YMCA and extend it east to Riverwalk Golf Course. Preliminary Engineering Report has been completed and the next step is a more detailed study.


Cedar Creek Falls to El Capitan Dam - Headwaters
This would establish the trail from below El Capitan Dam to the existing trail to Cedar Creek Falls. Most of this trail is on National Forest Service lands. The River Park Foundation is partnering with the National Forest Service, County of San Diego and others to finalize an alignment. Discussions with the City of San Diego and at least one private landowner are required to place the trail on their property.


Stadium & RiverWalk - Mission Valley
Both of these projects are critical for the vision of the River Trail. Fortunately, both are advancing. It will be vital to advocate for completing these portions of the River Trail early in the individual projects.


Mast Park West to West Hills Parkway and MTRP - MTRP & Santee
SANDAG has taken the lead on this project and has completed the environmental work required. It is unclear when this project will proceed to construction.


Trail Gaps and Enhancements - Mission Valley
SDSU Mission Valley to 805
Sign Program: Integrated wayfinding and interpretive program for section from Fashion Valley Road to River Center at Qualcomm Way.
Connection from elevated portion of River Trail to Qualcomm Way (on east side of roadway)


UPDATES
Nov. 2021 - Board of Supervisors approves $500,000 in funding for study to identify funding sources and mechanism to advance the River Park!


MORE INFO
The San Diego River Park Foundation collaborates with funders, public agencies, landowners and other partners to complete the vision of the San Diego River Trail. In some cases, we will also be the lead to construct trail segments.

The vision of the River Trail is to match the character of the community or open space it is traversing.
In the mountains, the trail width will be narrower matching the wilderness experience that is provided.
Lakeside and Santee will have their own character as well.
In Misson Valley, it will be an urban pathway with pocket parks, public art and even cafes, all designed in harmony with the River's ecosystem.
In the estuary, there will be view areas and interpretive signs to celebrate the incredible wildlife and history of the area. While the San Diego River Park system will be much more than the River Trail, the Trail is a critical piece that ties communities and recreational areas together.


MAPS


The River Trail can be divided into several sections, each at different stages of completion:
Cedar Creek Falls Area - For map, click here
El Capitan Reservoir Area - No public trails are currently available. Future trails are planned.
El Monte Valley - A Comprehensive Trail Plan has not yet been developed. Some projects are underway.
Lakeside River Park - For map, click here
Santee River Park - For map, click here
Mission Trails Regional Park: Several projects are anticipated, visit mtrp.org for trail information
MTRP - Ward Road - Trails will be developed as private property is developed or redeveloped
Ward Road to Fashion Valley Road - Known as the Mission Valley Greenway Initiative. For map, click here
Fashion Valley Road to Sefton Park/Mission Valley YMCA - Current Gap
Sefton Park/Mission Valley YMCA to Dog Beach: Known as the Estuary Section. For map, click here

* The above trail maps are not meant to be precise trail maps, but for illustration of existing and planned projects to complete the vision of the San Diego River Trail. For more detailed information contact The San Diego River Park Foundation.

The San Diego River Trail is a critical piece in the planned 52 mile-long San Diego River Park system. The trail will reflect the area it traverses from wilderness-type experience in the upper reaches to a more urban feel in Mission Valley. The trail system will also connect with existing and planned trails along its length. If you are interested in supporting this vision with your time, talents or funds, please contact the San Diego River Park Foundation to learn how you help complete the River Trail.
How To Get Involved?
Mission Valley
- If you have time, join the Mission Valley Trail Committee. These will be ZOOM meetings going forward to allow more people to participate.
Headwaters - Join the Headwaters Trail Committee. These meeting are often in the field to talk about specific alignments and potential projects.
Graphic Artist Needed! We are looking for a someone or a business to upgrade our web site trail information and to prepare visuals for presentations and distribution.
For more information, please contact Rob Hutsel at rob@sandiegoriver.org



STAY INFORMED
Sign up for our Newsletter and get up to date information.
Sign up today »
VOLUNTEER NOW
Help us keep the River beautiful for the next generation.
Volunteer now »