One 20 acre Privately Owned Property Remains
& El Cajon Mountain will be Conserved Forever
You can help grow our acquisition fund to acquire the final property!



El Cajon Mountain Conservation Area

Several years ago we launched an effort to Save El Cap - the beloved El Cajon Mountain which towers over the River.

17 privately owned parcels were identified. Really? Large portions of El Cap were privately owned? YES! We set a goal of acquiring and conserving all 17 properties.

UPDATE: Novermber 2014: 385 Acre Property has been transferred to the River Park Foundation for Conservation

Just 1 property remains to conserve El Cap!


More about El Cajon Mountain
Click Here for Location on Google Map
Next Step: Raise $25,000
If the property becomes available, we will need to have sufficient funds in place to acquire it. We will restrict your donation in our Land Acquisition Fund for this purpose. Pledges are also accepted. Just let us know if we can contact you if we are given the opportunity to acquire the property. Call 619-297-7380 X108 or
send email to Rob
. Thank you!
Donate Online via Secure PayPal. Your gift is 100% tax deductible as allowed by law.
Other Donation Options
1. Print Form and Mail
2. Call 619-297-7380 to donate by credit card over the phone

Questions? Call 619-297-7380 or email us

You can help save this incredible landmark!
Please ask others to join with you to save this incredible natural and cultural treasurer. Join with us today!



Views from Above Overlooking the Valley
It is also a Popular Climbing Area



The Property is a known Golden Eagle foraging area



The Property is on the Face of El Cap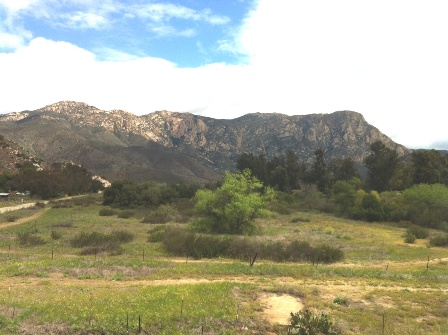 A View of El Cap from near the San Diego River in El Monte Valley


More About El Cajon Mountain Conservation Area

Can you imagine… your donation of $20 or more can help protect this beautiful land forever!


Donor Appreciation
$20 - $99: Receive an invitation to the acquisition celebration and be listed on this web site for 6 months (if desired)
$100 - $499: Get a Save El Cap t-shirt (while supplies last), plus above.
$500 - $999: Be recognized on a Donor Bench (placement to be determined)
$1000 - $1999: Be recognized on a dedication sign within our El Cap Preserve, invitation to join Conservation Society, celebration invitation, web site listing (if desired)
$2000+: Receive prominent recognition on the preserve dedication sign, invitation to join Conservation Society, celebration invitation, web site listing (if desired)

Other Current Projects
160 Acre Historic Homestead and Engelmann Oak Preserve in the Eagle Peak Conservation Area
This is an incredible property rich in history and home to Engelmann oaks, considered one of California's rarest oak trees. It also has a homestead ranch from before 1900! It is a property rich in history. Great news in January 2015 we completed the acquisition!

READ MORE





---



Final Addition to Eagle Peak Preserve

We completed the purchase of 35 acres of open space to add to the Preserve. It is the final piece of the originally planned 551 acre preserve!


READ MORE






---
Boulder Creek #3 in the Eagle Peak Conservation Area

Did you know there are wild rainbow trout in San Diego County? You can help us protect a cold-water stream where the trout can be found living year-round.

In 2013 we completed our second acquisition on Boulder Creek. There are two remaining parcels that have been identified for potential conservation. If we find out the owners are willing sellers, and we can work out a deal, we may need to be able to jump quickly.

READ MORE

Donate today to support these important projects! If you prefer, you can tell us to apply your generous gift to where it is most needed.

Your donation of $20, $50 or more can make a difference in protecting these lands!

For more information on any of these projects or how you can help, contact our President and CEO, Rob Hutsel rhutsel@sandiegoriver.org or call (619) 297-7380.
THANK YOU
El Cajon Mtn.
2014 Purchases

$20,000 or more
Ranelle and Bob Kain and the Health Quest Foundation


$5000 - $19,999
Alan Grant


$2000 - $4999
Anonymous (2)
The Sprecco Family

$1000 - $1999
Chip Owen
The Dawe Family
Linda Hill
Betsy & Lea Rudee
Sally & Peter Nelson
Terry Gaughen
Viejas Band of Kumeyaay Indians

$500 - $999
Mike Schneider
Rita Maria Kafalas-May
Anonymous
Bill Dahnke
Karen Begin & Rob Hutsel

$100 - $499
Cecile Walters
Jordan Snodgrass
Stacy Roberts
Ashley Salas
Pat Grant
Jim Herrington & David Talbott
Ruth Hayward
Richard Thesing
John & Kathleen Stremlau
Virginia & William Ferguson
Zena Pillow
Clint and Kim Williams Family
Marilyn Gibbs
Phil Pryde
Medford Dyer
Scott Sandel
Paul Henkart- Schwab Charitable Fund
Josh Sacora
Douglas Black
Patricia & Douglas Coe
Marc Reynolds
Linda Espino
Barb & Jim Peugh
Julie Hocking
& Jim Baross
Marty &
Cindie Offenhauer
Anthony Wagner
Charley Berwanger
Judy & Conrad
Brennen
Perry Dealy
Cary Lowe &
Trish Butler
Catherine Hansen

$20 - $99
Michelle Castagnola
Joanne Silva
Judy & John Pilch
La Delle Stattin
Thomas & Anne Scott
Robyn Bottomley
Jennifer Simonich
Vicki Froistad
Nancy Fritsch
Loren Spector
Barbara Tisdale
Joyce Fessler
Carole Talbott
Richard Lawhead
Valerie Salaf
Timbrely Pearsley
Raphael Mazor
Myrna Davis
Paul Curtis
Michael Golden
Bradley Cunningham
Donna Catterick
Eric Unruh
Steven Higgins
M.D. McKirnan
Alicia Bianchi
Douglas Clark
Barbara Clark
Alan Dawson
Kathryn Riley
Carolyn Barkow
Kai Johnson
Mona Anderson
TNG
Walter Pershing
Lee Barken
Cathy Bartels
Josh Gelb
Erin Southam
Victoria Call
Patsy Fletcher
Ann & Michael Sixtus
Rippee Photography
James Royle
Gary Mitrovich
Cathy & Jim Potter
Linda & Fred Kramer
Tom Leech
Symore Rettinger
Gary & Laqueta Strawn
David Etonia
Debra Inman
Frederick Maki
Christopher Delriego
Lindy Harshberger
John Hawley
Theresa Acerro
Patrick Jelsema
Jennifer Stone
Tamara Cook
Anonymous
James Miller
Rajeev Krishnamurthi
Edinei Dal Bem
Qualcomm Matching Grant Program
Phyllis Berger
DMY Studios
Suzanne Floyd
Sarah Kranz / Hiking San Diego County
Daria Doering
Neil White
Donna Gookin

Thanks to the people who gave less than $20, too!
This list will being updated and the final list will be posted shortly.

SPECIAL THANKS
To Wildlife Club members who provide important ongoing support. Thank you!
Our sincere apologies if we have made an error, please let us know so we can correct it.

All donations are tax deductible as allowed by law. We are a 501c3 public benefit nonprofit.
EIN 01-0565671

5% or less of your donation to our acquisition fund is used for administrative or fundraising expenses.

.








STAY INFORMED
Sign up for our free Newsletter and get up to date information.
Sign up today »