Wildlife Camera Program - Critter Cam

Conserving the Upper Reaches of the Watershed by Documenting Wildlife
---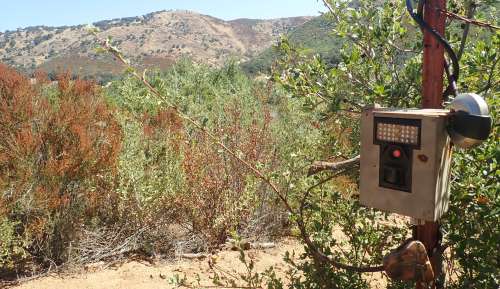 The Critter Cam program conducts research in remote areas to help guide our land conservation efforts. In the above photo, you see one of our cameras in a remote location.
Critter Cam has 2 Primary Goals:

Identify key properties for conservation
Assist with preserve management activities

By setting cameras on lands owned by The San Diego River Park Foundation we can better understand where animals, especially large mammals, move. This helps advance understanding of the range of these animals as well as the wildlife corridors they move through. From this we can work to better understand the conservation actions these critters need. This includes when necessary propert acquisition.

Critter Cam helps guide our Land Acquisition program. By knowing how indivudal animals move we can also adjust recreation and land management activities. We can work to remove barriers to movement such as old unused cattle fencing or focus restoration areas to provide "cover" for wildlife to move through.

SDRPF staff guide the program with the support of awesome volunteers.
To date we have recorded 1000s of critters including cougar, badger, deer, fox, and bobcat. In 2020 we documented our first ring tailed cat!
OPPORTUNITIES:
$1200 New Camera: No Longer Available!
12/30/2020 Thank you Jake Sibley for Donating toward the New Camera!

$200 One Year Camera Sponsorship - standard remote wildlife camera (non -cell). You can sponsor a critter cam for one year.


Support Critter Cam
make a donation today

This program relies upon donations. Your gift can ensure that this program continues.

DETAILS:
Each year, the program costs about $10,000 to run. It would be incredible if we could increase this program by adding cameras in other areas that we manage.
Currently we have 2 cameras that are cell-ready. They email us images on a regular schedule. By receiving photos several times each day we know right away about issues, such as trespassing, as well as about wildlife movement. These cameras also reduce the need to travel to recover the images. While we still need to maintain them, we are able to do so less frequently..
In addition, we have 6 cameras, like the one above, that aren't cell-ready. Our amazing Critter Cam team visits these cameras to recover images and conduct maintenance activities.
We would love to add 4-6 new cameras as resources are available so we can convert some of our cameras to cell-ready. (not all areas have sufficient cell coverage to support this activity). We also need to replace cameras as they are damaged, stolen, or even shot by hunters.

Donate and Support Widlife Research!

Other Donation Options:
Mail a check to
The San Diego River Park Foundation
PO Box 80126
San Diego, CA 92138
Please indicate in memo: Critter Cam

By Phone: send your phone number by text to 619-244-7024 or email give@sandiegoriver.org and we can give you a call to take your credit card details over the phone.

Questions? Please call or email us.
We have formed a the Critter Cam Facebook Group to share these photos.
Click Here to Join

We will send you a donation receipt for your records (please provide email or mailing address). Thank you!

Thank you to our Current Camera Sponsors!

Anonymous
Everett and LaVerne Neumann (2)
Vickie Church (2)


Sponsor a Critter Cam: Current Availability
$200 non cell-ready camera - one year - 1 available
Donate online (above) $200 and we will reserve the camera for you! We will contact you for additional details.
Sponsors are invited to join one of our researchers to download a camera in person or by ZOOM.
Special thanks
Chip Owens for all of his support and guidance on this program! Thanks Chip!

Do you have questions about our wildlife cameras program? Contact Chase, by email


Current Research: Badgers and Cougars at South Rim
Field surveys are in progress and will inform land acquisition in this area. Badgers are considered an important indicator of land bridges for wildlife movement. Cougars require a large area to move through. The South Rim is an important ecological area for these and other species.
Interested in volunteering on the camera team? You can be the first to see the photos we capture by volunteering to download and sort photos. Contact us for more information by email or by calling (619) 297-7380.
Recent Photos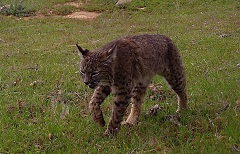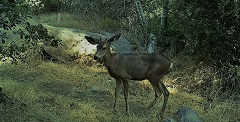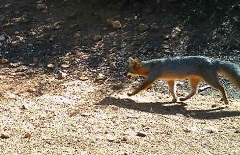 Thank You
to all who have donated to support Critter Cam
Pat Ray
Margaret Logan
Andrea Martinez
Mark Forbes
Roberta Olsson
Renee Chen
Rubie Blue
Jennifer Bennett
Jennifer Faye
Janine Harty
Carla Brandon
Georgeanne Irvine
Christina Sherer
Briela Moreno
Carrie Klutz
Joan Zittle
Angel Massingale
Priscilla Elwell
Denise Gibson
Marilyn Bynum
Robin Morris
Charles Gyselbrecht
Shankar Shivappa
Sandra Castellanos
Katherina Makarushka
Melanie Laederich
Megan Rodriguez Adrienne Heinzelman
Kathleen Tufts
Rebecca Eitelberg
Vickie Church

Britanny Cabeje
Amber Alatorre
Heather Zornow
Shannon Needoba
Azalea Park & Recreation Council
Richard Carrico
Lori Felchlin
Pat Hartley
Erin Jones
1502 Candle Co.
Judy Swink
Elizabeth Richardson
Colleen Rose
Lore Mayo
Nate Weflen
Janet McLees
Rita-Maria Kafalas-May in loving memory of
James A. Kafalas
Rory Townsley
Teresa Varnell
Betsy and Lea Rudee
Pat Grant
Peg & David Engel
Thomas Scott
Sharon Essey
Jack Friery
Lindy Harshberger
Tracy Reed
Cindy Burrascano
Stephanie Gaines
Doug Wescott
Michelle Abella-Shon
William Marsh
Deborah Carson
Wayne Seim
Lisa Radnovic
Susan Perry
Sue Hudson
Rob Hutsel
Chip Owen
Please let us know of an errors, and we will gladly correct this list.
Thank you!