Wildlife Camera Program - Critter Cam
$4000 Challenge Ends Sept. 30th
Donate now and have 2X the impact to support Wildlife Research
If we meet the challenge nearly a year of this vital program will be funded!
Knowing where and when wildlife moves is essential to making sure critters have enough open space to thrive. Even though they often go unseen, large mammals are vital to a healthy ecoystem.
The San Diego River Park Foundation's Remote Wildlife Camera program, known as "Critter Cam," places cameras as part of a research effort to document wildlife movement so that key places wildlie depend upon can be protected. Importantly, a long-term research program can assist in the vital effort to document wildlife response to climate change.

With staff overseeing the program and utlizing the talents and passion of a team of volunteers, this program operates on a budget of just over $10,000 per year. You can support the program with a one-time or monthly gift. Thanks!


Your gift of $10, $20, $50 or more will go a long way in helping wildlife!

Other Donation Options:
By Mail:
The San Diego River Park Foundation
4891 Pacific Highway, Suite 114
San Diego, CA 92110
Please indicate in memo: Critter Cam

By Phone: call our office at 619-297-7380 and we can take your credit card information over the phone and answer questions.
VENMO: @sandiegoriver


We will send you a donation receipt for your records (please provide email or mailing address). Thank you!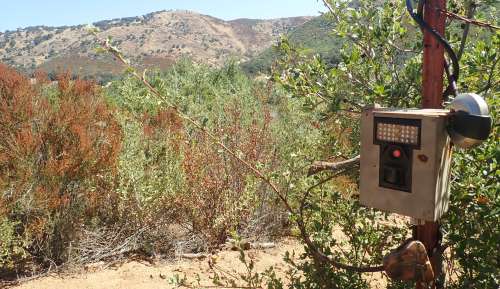 Camera positioned along a known game trail
The Critter Cam program conducts research in remote areas to help guide our land conservation efforts. In the above photo, you see one of our cameras in action. The cameras are managed by a staff scientist in partnership with an amazing group of dedicated volunteers. .
Critter Cam has 3 Primary Goals:

Identify key properties for conservation
Assist with preserve management activities
Support wildlife research


By setting cameras on lands owned by The San Diego River Park Foundation we can better understand where animals, especially large mammals, move. This helps advance understanding of the range of these animals as well as the wildlife corridors they move through. This knowledge guides conservation actions these critters need.

Critter Cam informs our Land Acquisition program. If we identify an area as important for wildlife, we work to purchase privately owned open spaces in that area that are up for sale for development.
In addition, once we acquire a property by knowing how and when animals move we can adjust recreation and land management activities to protect these amazing critters. We work to remove barriers to movement such as old unused cattle fencing and focus restoration areas to provide "cover" for wildlife to move through.

To date we have recorded 1000s of critters including cougar, badger, deer, gray fox, and bobcat.

CAMERA SPONSORSHIP OPPORTUNITIES:

$200 One Year Camera Sponsorship or $20 per month - 4 Available

$350 One Year Cell-Serviced Camera Sponsorship or $30 per month - 3 Available

Sponsor a wildlife camera for one year. You will be invited by the Camera Team to join them as they hike to your camera. If you prefer, you can join in on the hike by ZOOM, meet program staff and see a wildlife camera.
Sponsors also receive special photos that your camera has taken directly from the program staff.
Note: some cameras are in remote places without cell coverage. So ZOOM isn't availabe for those, but you will be able to "ZOOM" in to a nearby camera.

The Camera Crew goes to the camera on a regular basis to download images. It can be a thrilling opportunity to see the photos first and you are invited to join. Most camera locations require hiking on remote trails. If you prefer, let us know and we can see if a camera is available with easier access. Use the PayPal button above and enter a $200 or $350 donation or sign-up for a $20/ $30 per month donation.

PROGRAM DETAILS:
Currently we have 10 cameras deployed in open spaces within the upper San Diego River Watershed.


There are 5 cameras that are cell-ready. They use a cell phone signal to send us images as they come in. By receiving photos several times each day we know right away about wildlife movement as well as issues such as trespassing. We share the best photos with our Facebook Group as well as wildlife agencies and researchers. It can be lots of fun to see these images as they come in. We need to go to the cameras on a regular basis to maintain them and to recover higher quality images.
There are 5 other cameras, that aren't cell-ready. Our amazing Critter Cam team visits these cameras to recover images and conduct maintenance activities on a frequent basis.



Special thanks to our Program Sponsor:
Chip Owen

From the earliest days, Chip has been an incredible supporter of this program! Thanks Chip! Do you have questions about our wildlife cameras program?
Contact Natalie, by email

Volunteering

Interested in volunteering on the camera team? Volunteers that support this program can help sort through the hundreds of images we capture, service cameras in the field, and catalogue data.

Contact us for more information by email or by calling (619) 297-7380.
Recent Photos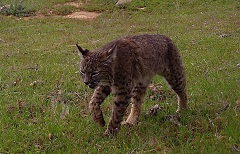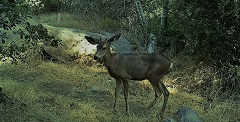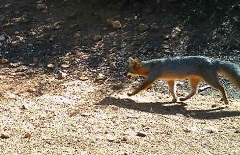 ---

THANK YOU!

Angelina Riggins
Patricia Rutledge in memory of Lucy Franck
Patricia Walsh
Rob Hutsel
Juliet Sykes
Nathan Weflen
Chritina Brown
Vickie Church
Janet Worthington
Mollie Martinek

Sherry Simmons
Mary Niez
Glenn Torbett
Debbie Sakarias
As of 9/23 3 PM
Please let us know if a correction is needed!