River Center at Grant Park
A New Home for the Cool River Education Program


INCREDIBLE OPPORTUNITY:
The Conrad Prebys Foundation $1 million challenge
Double the impact of your gift today!
---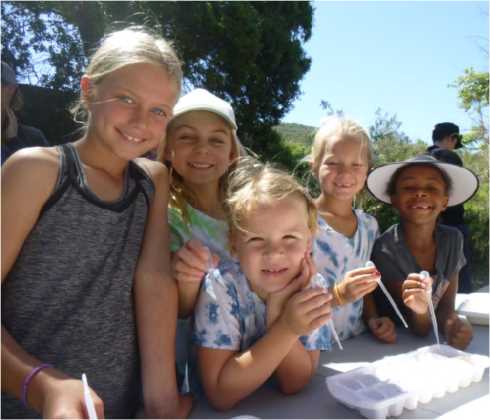 Inspiring the next generation of nature stewards right along the banks of the San Diego River with Southern California's premiere urban river education center


A Dream Taking Shape For Our San Diego River

Explore riparian wildlife up-close, let nature and science inspire you, marvel at the beauty of butterflies or simply take a respite from the pace of urban life along the River, this is the vision for the River Center at Grant Park.

Transforming abandoned sand mining pits into a state of the art nature education center for San Diegans of all ages to discover the wonders of the San Diego River Ecoregion through immersive learning experiences. 25,000 kids per year will have this unique opportunity to connect with nature - fostering lifelong benefits while providing a wonderful new green space for all to enjoy.

Location: Mission Valley - Qualcomm Way and Camino del Rio N
Google Map

Now Raising Funds for the Park and Interactive Stage Phase:
This Phase includes:
Conrad Prebys Outdoor Stage with seating for 100 students
Butterfly garden and other gardens featuring native flora
Cool River Lab Program building with restrooms
13 acre natural lands research area
Hands-on touch tank and other interpretive elements
New neighborhood park for Mission Valley and beyond



We seek to inspire kids of all ages to be passionate about the San Diego River and nature through hands-on STEAM programs which are fun, interactive and memorable. Our goal is to serve kids that live and go to school within 15 minutes. With its location on Qualcomm Way in Misison Valley, the facility will serve many kids who don't have the opportunity to experience nature from communities such as North Park, City Heights, Serra Mesa, Linda Vista and more.



EXCITING NEWS!


Conrad Prebys Foundation has awarded the project a $1 million Challenge Grant.
Now when you donate, Conrad Prebys Foundation will match every dollar raised! To show their support they made an initial gift of $250,000 and now will match up to $750,000 to reach a total of $1 million! These funds are a significant contribution to the $4.8 million needed to be raised to open! Double the impact of your gift today!


Donate Online Now Through Secure PayPal


Other Donation Options
By Check:
Mail a donation made out to:
The San Diego River Park Foundation
4891 Pacific Highway, Suite 110
San Diego, CA 92110
Please include a phone number or email so we can contact you about your donation and indicate in the memo field: "Grant Park Donation"
By Phone:
Call 619- 297-7380 9AM - Noon Tuesday and Friday to make a donation by credit or bank card over the phone.
Gift of Stock:
With record levels in the stock market, this may be an attractive opportunity.
Learn More
---


GIVING LEVELS


RIVER FRIENDS
All donors and their guests will be invited to a special dedication ceremony!
FRIEND - Up To $99

CHAMPION - $100 - $499

Make a gift at this level and we will include a tile or similar item in your name along the pathway. As these are designed, we will contact you about the tile details..

DISCOVERY CLUB - $500
Make a gift of $500 and get your name on an engraved river rock which will be placed along the entry wall near the seating area and stage.
(
Donation Form PDF)
STEWARDS CLUB- $1000
Make a gift at this level and get your name on a large engraved river rock which will be placed along the entry wall near the seating area and stage.
(
Donation Form PDF
)
DIRECTORS CLUB - $2000
Same benefits as the Stewards Club with a preferred location reserved for this giving level.
(
Donation Form PDF
)
---
SAN DIEGO RIVER SOCIETY

Donations of $5000 or more can be fullfilled over up to 5 years by making a pledge.

Donation and Pledge Form for San Diego River Society (PDF)

RIVER CLUB - $5000
Make a gift of $5000 or more and join the River Club! Your generous gift will be recognized on an appreciation sign near the entrance to the park as well as permanent recognition at the interpretive pavilion. You will be invited to a special pre-ground opening ceremony and kept informed of the progress of the project by the CEO.

PARK PARTNERS CIRCLE - $10,000 - $24,999
A gift at this level will include all of the recognition of the River Club with the addition of a tree dedicated in your honor. A special plaque will be placed at the tree. This is a limited opportunity.

FOUNDER'S CIRCLE - $25,000 - $99,999
Pledges and donations at this amount will receive prominent recognition at the interpretive pavilion. This special group will have the opportunity to meet with the project architect, get special behind the scene tours as construction advances and be invited to a special reception as well as the pre-groundbreaking ceremony.

LEADERSHIP CIRCLE - $100,000
Pledges and donations at this amount and above will receive special recognition at the donors courtyard as well as received all Founders Circle Benefits.

PRESIDENTS CIRCLE - $200,000 and above
Featured naming opportunities are available with a donation of $200,000 or more. These can be arranged with the the President and CEO, Rob Hutsel.

Estate and other planned gifts are also encouraged and will received permanent recognition at the interpretive pavilion. Learn More

Interested in opportunities of greater amounts or have questions?
Please call Marla Libraty, our Director of Philantrhopy at 619-297-7380 or contact him by marla@sandiegoriver.org
About Grant Park

For nearly 20 years, our education programs have been taking kids directly to the San Diego River and its incredible ecosystem. Thousands of students have been able to have a wonderful experience. However, the program lacks a safe and secure base - a permanent home so more deserving kids could be reached. A place was needed which was familiar to the kids and that could provide a meaningful nature connection; a place to store equipment and to introduce kids to nature science; a place with essential restrooms and amenities; and finally, a place which served the community.

In 2009, the vision for a new center took hold. Inspired by a family and their personal connection and love for the River, the Grants. The Grant Family donated their 17-acre river-fronting property to the San Diego River Park Foundation. In recognition of this generous gift for future generations the project is known as Grant Park.

Tthis site is in the heart of Mission Valley, prominently located at the northeast corner of Qualcomm Way and Camino del Rio N. The site is easily accessible by foot, bicycle, trolley, bus and vehicle.

It took several years to work throuh the design of the project and to secure the required permit and approvals from multiple agencies. With comments such as "in your career you get to work on some cool projects, and this is one of them," the City of San Diego Planning Commission unanimously voted to approve the major permit and environmental documents for the project! A fantastic turnout of supporters erupted in applause.


Grading Phase - Phase 1A
We immediately set to prepared construction documents and get those approved by the City of San Diego so we could start work on the initial phase of the project. This including grading, habitat restoration, retaining walls and other work to get the site ready. Phase 1A was completed April 2020. Habitat restoration activities continue. Thank you to everyone who contributed, the design team, contractor and others who dedicated many years and financial resources to get to this major milestone.


Where does that put the project now?

When the Conrad Prebys Foundation challenge is met, $2 million toward construction budget will be raised.

Current Activities:
Utilities and Public Improvement Phase - complete underground utilities and build an expanded landscaped pathway along Camino del Rio N, parking lot, and entrance and other improvements. Budget: $1,600,000.


Park and Interactive Stage Phase- Construct the park, Conrad Prebys Stage with seating for 100 kids, river pathway,multiple native plant gardens, public restrooms, and building with Cool River Lab. When opened, our nature education programming can begin, and the park will be open for all to enjoy! Budget: $3,200,000.


Budget Current Activities: $4,800,000

Future Vision - Add a second building with research lab, classrooms, nature library, exhibit area and meeting rooms; elevated nature boardwalk; water feature; and additional interpretive features!

If you would like to schedule a tour or presentation about how you can be part of this project, contact Marla Libraty, Director of Philanthropy, at 619-97-7380 or by email.


As a 501 c3 public benefit non-profit, your donation to The San Diego River Park Foundation is tax-deductible as allowed by law. EIN 01-0565671.
Donations will be dedicated to the total costs of the project which includes construction, furnishings, start-up expenses, project management, administration and the necessary costs to raise the funds required. Our most recent audit is posted at click here.

PROJECT TEAM:
Lead Architect: Roesling Nakamura Terada Architects

Primary Consultants:
MIG Landscape Architecture
Rick Engineering
RECON Environmental

General Contractor:
Pacific Building Group


Other Ways to Help:
Join the Friday Team ECO volunteer group to help with habitat restoration for the site
Join the Thursday Team ECO volunteer group for general site maintenance and care
Lend your graphic and web design skills
Soon, docent, group and other volunteers will be needed. Please let us know of your interest.
To learn more about volunteering, please contact our Volunteer Relations Manager at volunteer@sandiegoriver.org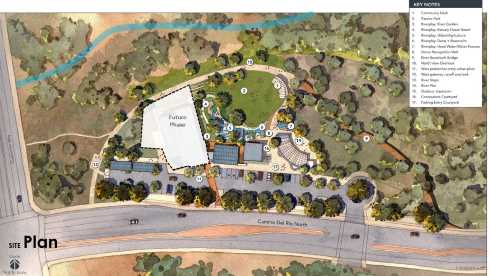 The Conrad Prebys Foundation has generously provided a
$1 million challenge grant for the River Center at Grant Park, hoping to inspire others to give as well.
Provided by CoolFundraisingIdeas.net
---
Thank You
Park Phase Donors!
---

Leadership Circle
Hervey Family Fund at The San Diego Foundation

Founders Circle
R & V Management

Park Partners Circle
Hattie Ettinger Conservation Fund at The San Diego Foundation
Union Bank

River Club
Pam Fair & Glen Sullivan
Peg & David Engel
Lynette Humphrey
Peter Thomas
Republic Services
Ann & Bill Dahnke
Damon Valenzona & MyCase, Inc.

Directors Club
Julie Hocking &
Jim Baross
Cynthia & Robert Pencek
Kaiser Permanente

Stewards Club
Robert Mazalewski
Lindy Harshberger
Andy Hirmez
Steven Abbo
Kafan Hana
Ray Ibrahim

Discovery Club
SDLiveScan
Southwest Strategies
Bill Shaw
Barbara & Jim Peugh
Judie Lincer
Tama Becker-Varano
Fred Kramer in memory of Linda Kramer
The Clay Company
Amy & Rich Caterina

Champion
Elizabeth Flynn
Theresa Acerro
Terri Johnson
Eric Unruh
Stephen Haase
DeVerna Rogers
Judy Swink
Molly Gee
DeVerna Rogers
Emilie & Jeff Mason
Shawn Flanigan
Steven Higgins
Ingrid van Duivenbode
William Scherer
Luke English

Friend
Pamela Williams
Marina Varano
Shannon Quigley
JoAnne Hutsel
Susan Krzywicki
David Mares
Lauren Edwards
Gregory Johnson
Marti Kranzberg
Norrie Robbins
Patti Turkle
Sophia Frost
Marie Tracz
Tom Leech
Esther Davis

Updated: 6/17/2021

* Includes Pledges
Please let us know if we made an error so we can correct it right away!
Thank you!



---

Thank you to everyone who has contributed to support the development of this project!
Patrons of the Design, Permitting and Grading Phases of this Project


PRESIDENT's CIRCLE
Cookie and Tom Sudberry
Alta Company LLC
Philip R. Pryde

LEADERSHIP CIRCLE
The Parker Foundation
Anonymous (multiple)
Westfield LLC
Pat Grant, DVM
State of California, San Diego River Conservancy

FOUNDERS CIRCLE
Alliance Data
SEAT Planners, Inc.
Sempra Energy Foundation
Principal Life Insurance Company (Hazard Center)
San Diego Gas & Electric
San Diego Kiwanis Club Foundation
Fay Riha
Price Philanthropies Foundation
Claude A. and Johann S. Petty Foundation
Claude Petty and Luis Mandujano
RECON Environmental
Rob Hutsel & Karen Begin
Bill and Ann Dahnke
Beth Bruton
The Rice Family Foundation
Jean Wright Elson
Jeffrey & Jo Ellen Bradley

Up to $24,999
Thank you to everyone who has contributed to this project so far!!

This reflects donations, grants and pledges received.

This list will be updated on regular basis.
Thank you to all donors!

Special thanks to all who have put the River Center at Grant Park in your estate plans!