Explore the River On Your Own
Our Favorite Places and Spaces to Visit
---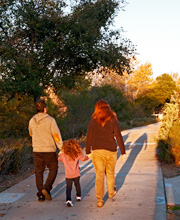 The San Diego River is a local treasure waiting to be explored. With a watershed of more than 440 square miles, the River is an inviting and often overlooked waterway rich in cultural history, value, and recreational opportunities. Today, the River is being rediscovered and you are invited to follow its course and learn more about our namesake waterway. So get out there and discover the San Diego River!

We have brochures and maps to guide you along the River, its preserves and parks.
To enhance your San Diego River experience, a nature guide is available for your family to use, created by Marly Isler, a student at Francis Parker School. This guide will help you indentify the many mammals, birds, reptiles and insects you will see on your journey along the San Diego River. A Brief Walk On The San Diego River is available for free download in the Online Information Center on our website (scroll down to the "Other Studies and Reports" section).

If you have any questions, please give us a call at (619) 297-7380.


Places to go
The Upper San Diego River
Read more...
Lakeside
Read more...
Santee
Read more...
Mission Trails Regional Park
Read more...
Mission Valley and Old Town
Read more...
I-5 to Ocean Beach and Point Loma
Read more...

STAY INFORMED
Sign up for our Newsletter and get up to date information.
Sign up today »

FRIENDS MATTER
Become a Friend of the San Diego River Park Foundation and invest in the future of the River.
Learn more »