El Cajon Mountain Conservation Area
---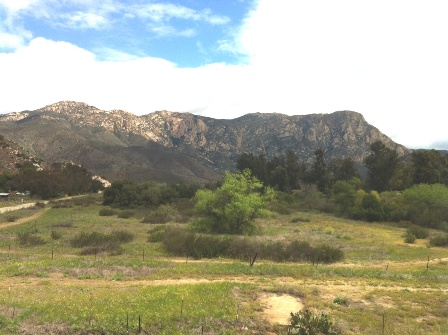 One of the most visible landmarks in San Diego County is El Cajon Mountain, commonly known as El Cap or El Capitan. It is a stunning granite monolith that towers above the San Diego River and El Monte Valley in Lakeside. Much of the Mountain is within the Cleveland National Forest or the County of San Diego's El Capitan Open Space Preserve.
Location:
Near El Capitan Reservoir in Lakeside
Conservation Values:
Golden eagle nesting and foraging
Lakeside Ceanothus (Ceanothus cyaneus)
Hiking and climbing
Protection of views
Location - Additional Information
Google Map

Adjacent Ownership and Goals:
When the River Park Foundation started the El Cajon Mountain Conservation Project, there were a number of privately owned properties surrounded by the Cleveland National Forest, El Capitan Open Space Preserve or Silverwood Wildlife Sanctuary. Our goal was to work with these landowners toward a conservation strategy. As of November 2014 all but one property - of about 20 acres - has been acquired for conservation. This property is on what we call the "West Face" section of the Conservation Area. Our goal and vision is simple, that all of these lands should be in public trust.

Volunteer Opportunities:
Assist with Fundraising Efforts for Acquisition
Participate in Seasonal Hikes to Visit Property
Join the Preserve Monitoring Team
Photography - Photos are needed to support fundraising efforts.

Current acquisition project: Build Fund for Final 20 Acre Property

VOLUNTEER NOW
Help us keep the River beautiful for the next generation.
Volunteer now »
STAY INFORMED
Sign up for our Newsletter and get up to date information.
Sign up today »