NEWS and UPDATES


2023 - Digital Newsletter - 2022 Impact Report



News Releases (PDF)

2023
Earth Day - Mural Painting Project
Lillian Hill Acquisition Success!


2022
Sock Drive Announced - Read the Release
Clean River Program Reaches 100 tons - Read the Release

For media inquiries, please contact
Amanda Jordan
Marketing and Public Relations Manager
---
UPDATES
Fashion Valley River Restoration Project
January 2023
Location: San Diego River between 163 and Town and Country Resort
Partners: San Diego River Park Foundaiton, Fashion Valley and Urban Corps of San Diego
Goal: To remove non-native invasive plants so that native plants flourish

Benefits:
improved habitat for birds, butterflies and other wildlife
remove non-native plants which compete against native plants
reduce flooding
open area up
remove trash and other pollution
How to get involved
Join us for a Tour! Tours will be organized. Let us know you are interested and your availability. Small groups will go on a walking tour and learn about the strategies and benefits of restoring this area. You will see the river up close.
Volunteer on Tuesdays to join Team Impact as they work with SDRPF staff to implement the restoration plan.
Volunteer for a future river cleanup at this location.
Please email Natalie or call us at 619-297-7380 to learn more. Thanks!
Recent Photos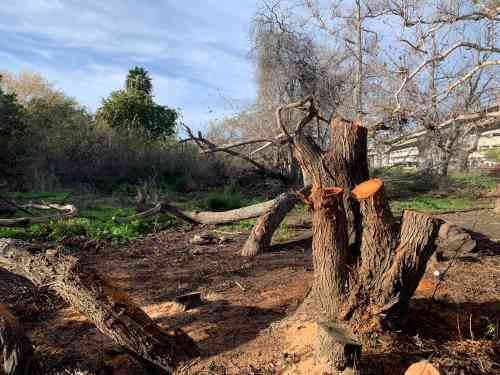 Additional Photos will be posted soon.

STAY INFORMED
Sign up for our free Newsletter and get up to date information.
Sign up today »