Campaign for the River Center at Grant Park

A Dream Taking Shape For Our San Diego River
Imagine a place in the heart of Mission Valley where kids can go to receive hands-on nature learning experiences - forging a strong connection with the river and its wildlife. Imagine a permanent home for the river where people can learn about this natural, cultural and recreational treasure. Imagine a place which fosters nature connections to last a lifetime.
This is the vision of the River Center at Grant Park.
When we complete Phase 2, we can start providing 10,000 students a year with hands-on nature learning experiences. We can foster a strong nature connection and inspire a new relationship with our amazing San Diego River.

We invite you to join with us to make this possible.

---

5/8/2023 Phase 1 Fundraising Goal Surpassed! Thank You
Moving to Phase 2 - details


| | |
| --- | --- |
| | coming soon! |
By Mail: send a check to:
The San Diego River Park Foundation
4891 Pacific Highway, Suite 114; San Diego, CA 92110
Memo: River Center Phase 2


Credit card by telephone: call 619-297-7380 M - F 8:30 - 1:30PM


Other: Gifts of stock, IRA distributions, and wire transfers are all appreciated!
Contact us to let us know what works best for you and to make arrangements.


All donors will be invited to a tour and future events.
Special Opportunites are available for donation of $200 or more DETAILS
---
Campaign Update - Hundreds of people come together to raise the funds needed to complete Phase 1


5/8/2023. Time to celebrate! The Campaign for the River Center at Grant Park is moving to Phase 2!

With the Phase 1 goal being reached, the green light was given to install the irrigation and decorative Critter Walk railing planned for Phase 1. The crews got to work immediately and we held our first planting event on May 21st.
We will continue planting as nearly 1500 plants and trees are included in Phase 1.

We are signing up groups and will be having additional open community events. Please reach out to Shane, our project manager, if you want to help. We are also looking for experienced gardeners to help us. Contact Shane by email or call 619-297-7380.
The first batch of Commemorative Pavers have been ordered! We are now working on a second order. There is time to get your order in with a donation of $200 (see below). The initial round of pavers will be installed in June.
PHASE 2
The Campaign now is working to secure the funds needed for Phase 2. Thanks to a very generous grant from the Conrad Prebys Foundation, permits for this phase are ready to be issued. Our goal is to raise at least $2M for Phase 2 so we can start construction as fundaising continues. The total budget for this phase is $5.8M.
Did you know we are holding tours of the site?
Tours can also be arranged for groups. If you are interested about future tours, please contact Pat Rice at 619-297-7380 or by email.


---
Since the dream of this project was made more than a decade ago, we've imagined having a center to grow our education programs and connect more people with nature. Thanks to the Grant Family who made it all possible with their incredible gift of the 17 acre property which is home for this project.



---
SPECIAL OPPORTUNITIES


$200 - Engraved Commemorative Paver


Your donation of $200 will secure you a wonderful 4 inch by 8 inch paver to be installed along the entry path. There are two options: engrave 3 lines of text with 20 characters on each line (including spaces) OR engrave 3 lines of text with 14 characters and art (bobcat paw, eagle, trout, oak tree, or frog. Make your donation online and we will contact you for the engraving details or use our mail in form.

Mail In Form (PDF)
---

$500, $1000 or $2000 - Commemorative River Rock at Stage Entrance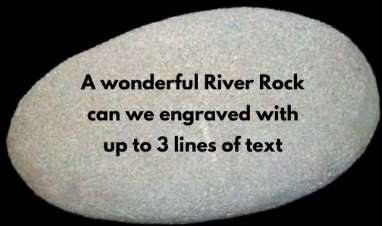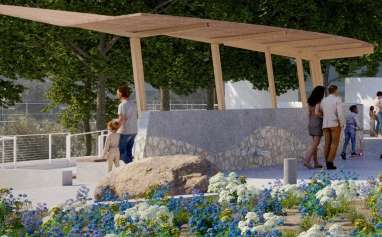 An engraved river rock will be included on the entry wall at the Conrad Prebys Stage.
3 lines of text with 20 characters or spaces per line. Increase your donation to $1000 for a larger river rock. A few large rocks at prominent locations at one of the entrances are also available for a $2000 donation. These will be installed with the stage is built in Phase 2.
We will contact you to confirm your donation or use the mail in form.
Mail In Form (PDF)
---
River Society
Donations of $5000 or more can be pledged over up to 5 years

$5000- River Club
Join the River Society and be recognized on a permanent dedication sign to be placed on the Den Building. With the completion of Phase 1 we will install a temporary sign at the construction entrance.

$10,000 - Park Partners

Park Partners receive the same benefits at the River Club. Your generous gift will be more prominently placed on the sign.


$25,000 - Founder's Circle

As a member of the Founder's Circle you will get a special opportunity to join a tour of the project with the project architect and be invited to a special VIP reception before the project opening.

Mail in Form (PDF) for Donations or Pledges of $5000 or more
---
OTHER WAY TO DONATE:
Mail check to:
The San Diego River Park Foundation
4891 Pacific Highway, Suite 114
San Diego, CA 92110
memo: Phase 1 River Center at Grant Park

Call: 619-297-7380 to donate over the phone and for additional information.
*We will contact you to confirm how you would like your donation recognized. You can also let us know if you prefer to remain anonymous.


---
Unique Donation Opportunities Start at $10,000!
Are you looking for something special?

Perhaps you would like to dedicate something for someone special or to recognize your organization or business. Current unique opportunities range from $10,000 to $1.4M.
There is even an opportunity to name the first building, the Den, as well as the Acoustic Shell.

Want to Learn More?
Please contact Pat Rice by email or call 619-297-7380.


SITE MAP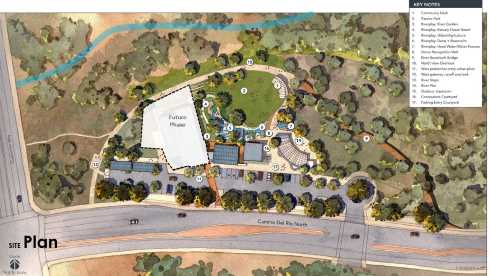 A special thanks to our PRESIDENT'S CIRCLE donors:
| | |
| --- | --- |
| Vantile Company, LLC | Conrad Prebys Foundation |
| Alta Company, LLC | Tom and Cookie Sudberry |
| Philip Pryde | Quarry Falls, LLC |
| An anonymous gift | |

Learn More





LOCATION


Qualcomm Way &
Camino del Rio N

in Mission Valley