San Diego River Conservation Accomplishments and Successes
---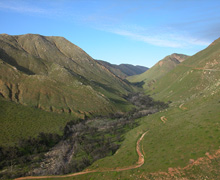 Conserved to date by the San Diego River Park Foundation: 2100+ acres
Conserved to date by partners through our advocacy: 2,000+ acres
Santa Ysabel Corridor:
White Canyon Preserve: 110 acres
Read more...


The White Canyon Preserve is an amazing canyon on Coleman Creek, the tributary that flows from Julian to the San Diego River. This pristine canyon was conserved through a Conservation Easement. The owner of the property, Mr. Jim White, contacted the River Park Foundation to help conserve the creek in perpetuity just as it is. After working on a variety of alternatives, a conservation easement was determined to be the best method. This Preserve is not open to the public, as it is set aside to give wildlife a sanctuary so that this beautiful canyon can remain pristine forever.
Eagle Peak Preserve Conservation Area:
Eagle Peak Preserve #1-11: 1120 acres (conserved since 2008)
Read more...


In much of the upper San Diego River Gorge where steep 1,000 foot drops to the River are common, wildlife such as deer are limited in where they travel between canyons and valleys. While much of this area is protected within the Cleveland National Forest, there are a few key areas which are privately owned. Eagle Peak Preserve started as an opportunity to strategically acquire a 112 acre property that most people thought was part of the National Forest. Working with the San Diego River Conservancy and the County of San Diego, the River Park Foundation took the lead on conserving this important wildlife area, which also includes 4000+ year old (estimated) cultural sites. The Preserve has been acquired through 11 separate transactions. The keystone for this project was a 204 acre property which was acquired by a Charitable Trust, and subsequently donated to the River Park Foundation.

Eagle Peak Preserve is considered our Flagship Preserve as it was our first project area. We are continuing to work to expand the preserve to acquire remaining key natural areas such as the Boulder Creek additions and South Rim annex.

Strategic Partners:
State of California, San Diego River Conservancy
The Parker Foundation
County of San Diego
The San Diego Foundation

Thanks to these supporters for making a difference in saving this property...


A special thanks to the following for their incredible support of this project

San Diego River Conservancy, State of California Resources Agency

County of San Diego

$50,000 or more
The Parker Foundation

$3500-9999
H. William Kuni Fund at The San Diego Foundation
The Heller Foundation of San Diego
Rob Hutsel
The Nature Conservancy

$1000-3499
Chip Owen
Hervey Family Fund at the San Diego Foundation
Tom and Cookie Sudberry
The Hutsel Family
Betsy and Lea Rudee
Janene Colby
Shelby and Ellery Stahler
Barb and John Pala
Kurt Benirschke
Kevin Burns and Kevin O'Neill
Ed and Dianne Cramer
Ensie and Matthias Blume
Ken Grant and Pat Grant
Peter St. Clair
Linda King and Joe Neff
J. Sterling Hutheson Family
Marilyn Hutcheson
The Clint and Kim Williams Family

$350-999
Kristi Porter
DIVERSA Corporation
Theresa Acerro
William Ferguson
Jo Ann Anderson
Judy Swink
San Diego Audubon Society
Kevin Mock
Margaret Green
Robin Stark Family Foundation at the San Diego Foundation
North County Group of the San Diego Chapter Sierra Club
Willie Grenis and Boy Scouts of America, Troop 500

$100-349
Anonymous (several)
Andrew Kincaid
Tom Leech
San Diego Fly Fishers Club
Glenn Torbett
Martha Baker
Cindy Burrascano
Nancy Vaughn
Charlie Berwanger
Patrick Jelsema
David Kimball
Sally and Peter Nelson
Geoffrey Smith and Camille Armstrong
Matt and Rosie Speno
Christina and Mark Rivas
Lois Day
George and Lucy Franck
Liz, Jason and Jack Giffen
Jean Jacobelly
Jackie Mann in memory of Gillian
Janie DeCelles
Mike White and Jerre Stallcup
Michael Beck
Lana and Mark Fayman
Janice Nordenberg
Brad and Patty Snyder
Nat Cohen


David and Norma Little in memory of Craig Little
In memory of Mrs. Fern Riley

Up to $100
Liz Adams
Paul Kucharczyk
Bryna Bicknell
Bob Collins
Nancy Baer
Ann Hannon
Elaine Gates-Miliner
Lindsay Goodwin
George Greer
Gail Hanna
Robert Carr
Debra Inman
Jean Kaiwi
JoAnn Koppany
Byron McKinney
Katharyn Morgan
Peter Morris
George Murphy
Pat Parris
Rhonda Schwartz
Dan Silver
Don Steele
Ann and Michael Sixtus
Marie Meadows
Christine Trigeiro
Doug and Kathleen Wescott
Neil Wykes
Janice and Edward McKalson
Kevin Flynn
Cathy and Jim Potter
Thomas Bauer
Bill and Arleen Reich
Robert McDowell
Sharon Davis
Therese Juarez
Home Depot Foundation
Daniel Conaty
Anahid Brakke
Chris and Jamie Burns
Candy Cowell
Gary Mitrovich
Jennifer and Vic White
Chris Stiehl
Carolisa Morgan
Devore Smith
Paul Whitby
Joyce Nower
Christine Robinson
Jennifer Kalena
Jennifer Tavernier
Dan Silver, M.D.
Julius Robbins III
McLane Downing
Marcie Mason
Nora Jean Smith
Eric Taylor
Joel Kalmonson
Larry Clark
Rod Kelley
Thomas Scott II
Summer Waters
Employee Matching Gift Program of the San Diego Foundation
Jennifer Kearns
Jon Schauble
Deborah Justin
Viktoria Vidali and Greetings With Heart
Patrick Comer
Terri Foster
Bonnie Hough
Deborah Todd
Marisue Crystal
Esther Davis



We sincerely apologize for any errors. Please let us know about any so we can correct them. Thank you!

Boulder Creek "Fisherman's Camp:" 2.35 acres (conserved since 2012)
Boulder Creek Addition: 11+ acres (conserved since 2012)
Read more...


We were asked by the State of California and local trout conservation groups to consider joining with them to protect wild rainbow trout on Boulder Creek. The first piece of property was small but critical to restoration and conservation efforts on this creek. The River Park Foundation with its track record of land conservation was asked to take the lead on acquiring this property which when we visited we saw 11 wild rainbow trout swimming on the stretch of the creek that runs through this property. Wow! We knew that this property had to be protected. It was a perfect place to launch this exciting conservation project. A deal was soon struck with the owner, and we were given 75 days to raise the funds needed to acquire the property. Thanks to the support of more than 100 donors, we raised sufficient funds to conserve this small but critical 2.35 acre property. We also received incredible support from Mesa Rim Climbing & Fitness Center, who helped us secure a 3 year loan for the balance of the funding required. As this acquisition was coming to a conclusion we learned that the 11+ acre property immediately upstream was on the market. Thanks to many donors and two bridge loans, we shortly thereafter completed this acquisition, too!

We are grateful for our partners for this project:
San Diego Fly Fishers
Golden State Flycasters
San Diego Trout
Mesa Rim Climbing and Fitness Center
National Forest Service
Dept. of Fish and Wildlife


Thanks to these supporters for making a difference in saving this property...


$10,000 and above
Golden State Flycasters' Skip Price Memorial Conservation Fund
$5000 - $9999
San Diego Fly Fishers
$1000 - $4999
Anonymous (several)
Lea Rudee
Pat Grant
Bill & Eileen Stroud Memorial Fund
San Diego Trout
Lindy Harshberger
Alan Grant
Viejas Band of Kumeyaay Indians
Tom Sudberry
Charlene Price
$500 - $999
Darryl and Doug Taylor
Karen, Rob and Alexandra Fund at The San Diego Foundation
Nancy Smith
Ellery Stahler
Joe Neff & Linda King
Srinivas Raghavan
Bill Dahnke

$100 - $499
Barbara & John Palan
Takeda California
Larry Holt
Patrick Herrington on behalf of Jim Herrington
James Hall
Kathleen Satterfield
Kathleen & Doug Wescott
Gary & Laqueta Strawn
Bud & Gingy Ferguson
Bonnie Hough
David Umstot
Jill and Jerry Hall
Mark Stuvetraa
Jack Simes
Catherine Hansen
Cary Lowe
Gary and BJ DeBusschetre
Jeanette Stevens
Drew George & Partners
Margarite Turkle in memory
of Carol Scotese
Kevin Burns & Kevin O'Neill
Michael Solway
Rob Hutsel & Karen Begin
Monica Curry
Kay Stewart
John Anderson
Amy Schmitz
Clint and Kim Williams
Simon Andrews
Pat Fishtein & Roland Roberge
Adam Saling
H & A Architects and Engineers
Lucy & George Franck
Anthony Zielinski
Janis & Gordon Shackelford
David Collins
Jerry Parker
Virginia Sherwood
David Kimball
Qualcomm Charitable Foundation
Robert Mathers
Jeremy Tuler
Bob Stafford
Diana Shurtleff
Nancy Nenow
Bruce and Sandra Michael
Mark Herrington in honor of Jim Herrington
Douglas Black
Christopher Delriego



Up to $99
Steve Brotman
Shannon and Tucker Raymond
Lance Haynes
Yvonne Kuhn
Brian Hartley
Where's My Bag
Andrew Heyer
Vicki Froistad
Ernie & Robin Smith
Liz Giffen in memory of Paul Raymond Vasquez
Judy & John Pilch
Amy Caterina
Cindy Chagnon
Carolyn Barkow
George and Linda Greer
Mary Wagner
Lynne Diamond
Sally & Peter Nelson
United Eco-action
Jerry Hughes
James Hay
Cathy Potter
Network for Good
Anonymous (several)
San Diego Watershed Monitoring Group
Margaret Blessing
Clark Management Co.
Thomas Harrison
Matthew Yanagi
Carol Telle
Business Acct.
Robert McDowell
Heidi Neff
Matthew Jones
Jodi Masumoto
Spencer Worobec
Isaac Diaz
Michael O'Sullivan
John Gibson
John Charbonneau
I. Heng Huang
Richard Klein
Bryan Ferkins
reuse.recreate.grow
Kyle Archer
Alexandra Meline
Cheryl Friday
Kathleen Roth
Thomas Oliver
John Kennedy
Lisa Haws
Marty & Cindie Offenhauer
Jyo & Preeti Purohit
Penny Bollinger
Terrance Hanvey
Cynthia Myers
Bill Kuni
Lisa Radnovic
Richard Carriere
Nora Jean Smith
Nadine & Joel Kalmonson
Patricia Robison
Sheri Facer
Davin Henderson
Claudette Young
Walt Witzens
Penny Tolchin
Kellyn Sanderson
Tom Leech
Lore Mayo
Carol Lamberti
Jean Kaiwi
Laurie Gibson
Debra Erickson
Bob and Joellen Collins
Dr. Jim Behrend
Mona Anderson
Marian Anderson
Anonymous (several)



We sincerely apologize for any errors. Please let us know about any so we can correct them. Thank you!

Peutz Creek Conservation Area:

Peutz Creek Preserve: 156 acres (conserved since 2011)
Chocolate Summit: 152 acres (conserved since 2013)
Read more...


Acquired in 2011, 3 properties make up this 156 acre preserve which provides vital habitat for a number of wildlife species. It is part of perhaps the most important and fragile north-south wildlife linkage in San Diego County. Providing stunning views of El Capitan Reservoir and the surrounding landscape, this open land is part of Alpine's heritage. The land also serves to protect water quality of the reservoir, the City of San Diego's largest drinking water reservoir, and provides opportunities for trail connections to the future San Diego River Trail.

This property was acquired through public grants from the State of California, foundations, and individual donors. In this case, these donations were leveraged more than 10 to 1. That is, for every dollar donated more than $10 was successfully received in grants. We look forward to "getting to know the property" and welcome you to join us at future hikes and service projects. It is part of a regionally significant wildlife linkage to Harbison Canyon and points south.

Thank you to the partners and supporters of this project:
The San Diego Foundation
Back Country Land Trust
City of San Diego, Public Utilities Department
County of San Diego
State of California
San Diego Mountain Biking Association
North County Group of the San Diego Chapter of the Sierra Club
Allied Climbers of San Diego
San Diego Fly Fishers
and many others!!!

Thanks to these supporters for making a difference in saving this property...


Allied Climbers of San Diego (2 donations!)
Cathy Potter
Marc Reynolds: a supporter of SDMBA
Howard Lange
Burnett Family Charitable Foundation
Karen & Jim Hodson
Heller Foundation of San Diego
Cheryl Friday
Raydene & Peter St. Clair
Kalen Arreola
Cindy Collins
Lea and Betsy Rudee
Barbara and John Palan
Allied Climbers of San Diego
Back Country Land Trust
San Diego Fly Fishers
North County Group, San Diego Chapter of the Sierra Club San Diego Mountain Biking Association (2 donations!)
Elizabeth Giffen
Dr. Phil Pryde
Ruth Hayward
BD Biosciences
Bruce Murray
Donald Hill
Rob Hutsel
Gary DeBusschere
Clark Management Company
Sylvia Herman
Robert Carr
Jim Christian
Steven Higgins
Lana Fayman
Stephen Haase
Glenn Goryl
Roberta Froome
Anonymous (several)
Ann & Michael Sixtus
Anonymous in recognition of Linda D. King
Nora Jean Smith
Gloria Satterwhite


Dan Silver
Katharyn Morgan
Kathy & Rex Wharburton
David Hollander
Zarohin Razak
Marc & Leslie Beauchamp
John & Frances Del Santo
Joel & Nadine Kalmonson
Jaime Ortiz
Jim & Cathy Potter
Rebecca Reid
Dan Conaty
Carrie Schneider
Annette Goff
Kellyn Sanderson
The Clint & Kim Williams Family
Mark Hammer
Igor Sfiligoi
Gary Stephany
Mark Stadler
Linda Harshberger
Tricia Campbell
Donna Steele
Chip Owen
A donation in the name of Jim and Megan McCullough
Don Steele
Jerry Parker
Todd Ruth
Virginia Hammer
Andrea Tull
Scott Wahl
Jean Kaiwi
Nancy Smith
Kathy Farrelly
Timothy Jara
The Szabo Family
Rhonda Schwartz
Erika Cayton
Karen Begin
Jim & Barbara Peugh





We sincerely apologize for any errors. Please let us know about any so we can correct them. Thank you!

El Cajon Mountain Conservation Area:

West Face Preserve: 157 acres (conserved since 2012)
A'Neal 20 Acres (conserved since 2014)
Mitigation Site 385 acres
2 additional acquisitions 40 acres

Read more...


Thanks to more than 180 donors and the County of San Diego this incredible property was conserved. Supporters to this project responded to two calls for donation. The first call was for $5000 to secure the right to acquire the property and place the property in escrow on March 27, 2012. The County of San Diego joined in and awarded $200,000 toward the acquisition and a second call for donations raised the remaining funds needed to complete the acquisition.

Our thanks to the County Board of Supervisors, Parks and Recreation Department and General Services. A special thanks to Director Brian Albright and his staff at Parks & Recreation for working with us on this project and to the property owner for their patience and extra efforts to make it all possible.

Thanks to all involved, this property, which we call "West Face," was permanently conserved.

Thanks to these supporters for making a difference in saving this property...


Shirley Watkins
Jim & Barb Peugh
Amy Caterina
Michael Michaels
Betty & Steve Ball
Bill & Arleen Reich
Erica Gomez
Lois Day
Sarah Hutmacher
Deborah Woodward
Valley Power Systems, Inc.
Cynthia Buchner
Richard Castillo
Marian Alexander
Christine Sloan
Elizabeth Brydolf
Keli Cadenhead
James Eliason
Allied Climbers of San Diego
Mesa Rim Climbing & Fitness Center
Lea & Betsy Rudee
Lindy Harshberger
Donna Catterick
Marilyn Gibbs
Steven Higgins
Carrie Reynolds
Marysue Glynn
Claudia Tedford
Ted Sledzinski
Alissa Aldous
Matthias Blume
Janet Worthington
Gail Sabbadini
Carol Livingston
Pat Fishtein & Roland Roberge
David Santistevan
Jeffrey Paradis
Rick & Wendy Hardy
Bridget Rountree
Sally & Peter Nelson
Randi Hawkins
Douglas Coe
Diana Lorenz
Eric Saretsky
Lowell Burnett
Lisa Schenck
Constance Chapman
Randall Moore
Wildbur Shigehara
Greg Bishop
Elizabeth Walker
Lisa Kiy
Cynthia Watchorn
Jyo & Preeti Purohit
Doreen Bartos
Vicki Reed
Kathleen Ellis
Rupert Burg
Harlynne Geisler
Jeff Pasek
Sandra Angione
Paul Nelson
Richard Childers
Vanessa Cunningham
Annette Goff
Mark Wachtler
Thomas Harrison
Leann Ortmann & Brian Long
Bill Maertz
John Hawley
Nancy Acevedo
Reuse Recreate Grow
Jim Baross
Peter Barry
Carolyn Bass
George & Judith Byram
Dr. Paul Chace
Colleen Christensen
Liz & Mellisa Collins & Family in memory of Leonard A. Newell
Alan & Joyce Comstock
Anne Corrigan
Donald Davis
Kathy Farrelly
Bryan Ferkins
Nora Jean Smith
Caroline Verba
Rex & Kathyrn Warburton
Delle Willett
Maatje Scherpenisse & Gerardus Kroon


James Chandler
Viejas Tribal Government
Giffen Family in memory of Rita Pavlovna Chetirkin
Jim Pea
Don Steele
Jean Buck
Kathryn Scott
Roberta Froome
Debbi Dodson & Michael Meacham
Carrie Schneider
Dolores Osisek
Gary Mitrovich
Toca Murakami
Ryan Slaybaugh
Saturnino Garcia
Katharyn Morgan
Cindy Burrascano
George Murphy
Cynthia & Roderick Brown
Shinene Johnson
Maddison McFarland
Carolyn Barkow
Huy Nguyen
Erica Schalit
Lenia Muro
Peter & Raydene St. Clair
JoAnne Hutsel
Mike Pallamary in honor of Paige & Bostyn Pallamary
Eric Unruh
Susan & Bill Carter
Christina Roberts
Brian Hartley/Hartley Company Insurance Services
Marty & Cindi Offenhauer
Robert Self
Barbara Thompson
Nita Johnson
Write It Right
Laura Turner (3!)
The Clint and Kim Williams Family
George Holbrook
David Urban / Green Man T-Shirts
Viktoria Vidali
Ophira & Diana Bergman
Makrom Shatila
Susan Brown
Mark Dodge
Beverly Brown
Issac Diaz
Seema Sueko Hirsch
Jean Kaiwi
John & Kathi Kennedy
Cyrstal Najera
Vicki Beatty
Corrine LeCates
Jessica Nettles
Paulette & Jerry Begin
Donna & Lee Campbell
Debra Inman
Patrick Jelsema
Stefan Boehme
Karen Floyd
John Anderson
Joshua Beatty
Sandra Liflander
Igor Sfiligoi
Derek Loranger
Mohebullah Ahmadi
Stephanie Gaines
Rob Hutsel & Karen Begin
Lucy & George Franck
James Hall
Catherine Hansen
Jim & Karen Hodson
Armin & Rhea Kuhlman
Jim & Linda Michael
Michael O'Sullivan
Dr. Phil Pryde
Adam Saling
Arnie Schoenberg
Craig Scott & Mark St. John
Penny Tolchin
Victoria Touchstone
Kellyn Sanderson
Glen & Teresa Bryson
Kevin Burns & Kevin O-Neill
Anonymous (several) & 2 anonymous hikers!




Our tremendous thanks to the Heller Foundation of San Diego who made a grant to support this program and the work needed to identify interested landowners who are interested in selling their land and cost of negotiating and performing due diligence on these acquisitions. Thank you!

We sincerely apologize for any errors. Please let us know about any so we can correct them. Thank you!

To learn more about our Save the Source program and our ongoing efforts to care for these properties, click

here

.

DONATE NOW

Make a difference In the lives of others.

Donate now »

STAY INFORMED

Sign up for our Newsletter and get up to date information.

Sign up today »