San Diego River Murals and Art
Community Volunteers Bringing Art to the River Park
---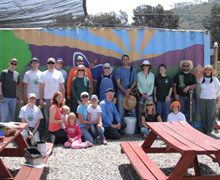 We love murals! We believe that they are a great way to celebrate our river.
The San Diego River Park Foundation has coordinated community members of all skill and experience levels to work on several murals along the San Diego River Trail.
To see a Google map with locations of the murals, click
here
.
Murals:
"Happy Trails"

Completed in March/April 2012, designed and directed by Thom "The Sign Painter" Guerra. Over 100 community volunteers helped to complete this wonderful new public art installation. It is located along the River Trail in the Mission Valley Preserve at Cottonwood Grove.

See a video of the mural creation here.

This project was made possible with the support of:
The Mission Hills Garden Club
Teen Volunteers in Action
Sherwin-Williams
"River Life"
Completed in October 2009, was completed over the first four days of October 2009. Nearly 200 volunteers came out to help us transform an eyesore into a work of art by creating our largest mural yet, over 1,748 square feet! "River Life" is located at the corner of Camino de la Reina and Qualcomm Way. It was designed and directed by Lori Escalera.

See a video of the slideshow of the mural in progress here.
"Our River"
Completed in April 2009, more than 100 artists signed up to help paint this very visible community mural, located at Mission Center Road and Hazard Center Drive in Mission Valley. This mural was designed and directed by artist Andrea Arroyo.
"On The River Trail"
Completed in August 2008, this mural is located along the River Trail on the south side of the River, just east of Pacific Highway. "On the River Trail" was designed and directed by Lori Escalera. See a video of the slideshow of the mural in progress here.
Our first two murals are located along Friars Rd. (one on each side of the road), just west of Napa Street.


Do you love art too?
1. Art Recovery Team
When one of the murals needs some sprucing up, we call the Art Recovery Team!
This is a great opportunity for emerging artists and community artists!
If you want to be on the A.R.T., let us know!

2. Mural Planning Team
We are looking to secure a location in Mission Valley to do our next project. If you are interested and have some time to work on it, let us know!
3. Donate Art Supplies
Your gift will be used to support these community projects. Donations of paint, brushes and other supplies are always appreciated. The lead artist will select appropriate art for the surface and the technique being used for each art piece, if you have a business that is interested in supporting, this program, please let us know.

CONTACT:
volunteer@sandiegoriver.org.
VOLUNTEER NOW
Help us keep the River beautiful for the next generation.
Volunteer now »

STAY INFORMED
Sign up for our Newsletter and get up to date information.
Sign up today »