Friends of the River Mouth
Join the Community of Volunteers in Ocean Beach
---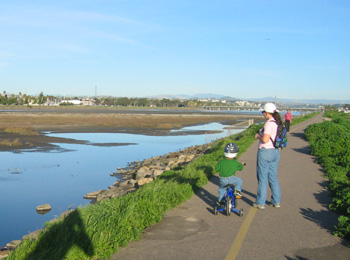 The San Diego River Mouth is located adjacent to Dog Beach in Ocean Beach. Rolling sand dunes, wandering trails and thriving wildlife make this site a real gem. It is part of a large 300+ acre estuary and also part of Mission Bay Park. The Friends of the River Mouth work in partnership with the City of San Diego Park and Recreation Department, the Friends of Dog Beach, the Ocean Beach Town Council and others to care for this incredible area.
Did you know that less than 5% of the coastal wetlands in the State of California are left? Coastal wetlands like the River Mouth are incredibly significant for their unique habitats, serving many critical functions for both marine and freshwater aquatic species, birds, mammals, reptiles, and many more. We work to care for and raise awareness of the coastal dune habitat and the intertidal area.
We invite you to visit and get involved with the Friends of the River Mouth! There is parking and there are restrooms available at the adjacent Dog Beach.
Location: at the
west end of Voltaire Street
in Ocean Beach.
How you can get involved:
Join the volunteer team! The Friends of the River Mouth meet regularly on the fourth Saturday of odd numbered months from 9 am – noon to care for this site. Additional volunteer opportunities are listed on our calendar. If you regularly visit the River Mouth or the River Trail at the estuary, we need your help too! Let us know about any site issues, like damaged or missing signage, graffiti, etc. Contact us rivermouth@sandiegoriver.org to learn more about becoming a Friend of the River Mouth.
Become a member to show your support for this incredible site! Indicate Friends of the River Mouth on your form.
Projects are available for your group at this site. Click
here
to learn more about group events.
Thank you to our partners:
The City of San Diego
U.S. Fish and Wildlife Service

FRIENDS MATTER
Become a Friend of the San Diego River Park Foundation and invest in the future of the River.
Learn more »
VOLUNTEER NOW
Help us keep the River beautiful for the next generation.
Volunteer now »