Home2Nature Program
Engaging Youth in Native Plant Restoration
---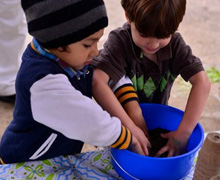 Kids can help the health of the River too! Through the Home2Nature program, we engage youth in learning about the importance of native plants in the ecosystem. Our native plants are perfectly adapted to our climate and serve many important functions. But they need our protection!
With their team leaders, kids will conduct a native plant scavenger hunt along the River, and examine the unique adaptations of these plants. They will also help to restore the area by planting native seeds and seedlings to help restore the River.
Check out our events calendar to learn more about upcoming education
events
.

DONATE NOW
Make a difference In the lives of others.
Donate now »
VOLUNTEER NOW
Help us keep the River beautiful for the next generation.
Volunteer now »