Turtle Watch - Do you love turtles?
Join with us as we work to conserve San Diego's only native, coastal freshwater turtle!


Sadly, studies have documented the western pond turtle is in an "alarming" decline.
One of the principal causes is the destruction and loss of riparian habitat.
Our Turtle Watch program will document populations of these turtles and monitor the condition of the habitats they rely on. Our comprehensive effort will conduct field research in areas where limited data is available. We will continue to monitor these areas and share data with pond turtle reasearchers. We will look for non-native turtles, too.
Can you tell the difference?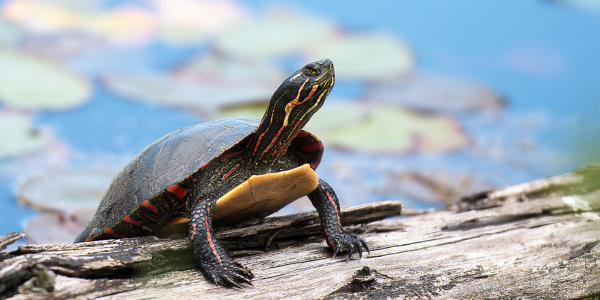 While a very cute photo, this isn't a turtle native to San Diego



Photo of our native pond turtle taken along one of the river's tributaries



Become a Friend of Pond Turtles: donate $10 or more
Donation for turtle conservation.
With your donation and the support of other like- minded Turtle Conservationists, we will raise the $3600 needed to survey and monitor 4 tributaries this year. By knowing where the turtles are and what threats they face, they can be better protected.

We have a very special opportunity to Adopt a Turtle


Special Opportunity: Adopt a Turtle: donate $120 or sign-up for monthly donations of just $10.


Adopt a Turtle - Details
Get an adoption e-certificate, and a fact sheet with information about "your" turtle. You will be invited to exclusive events (in person and virtual) to learn more about western pnd turtles and our turtle conservation efforts. We are limiting this to 20 turtles. This makes a great gift, too!

Donate using PayPal


Your gift will help advance our turtle conservation program.
To make a monthly gift, simply select that option after clicking the "Donate" button.
Of course, these are ceremonial adoptions, we like to keep wild turtles wild:)
OTHER DONATION METHODS:

Your turtle certificate of adoption and a fact sheet will be emailed to you.
These also make great gifts for the turtle lover!
2023 Objective: Conduct turtle survey on 4 tributaries of the river and share this data with other turtle researchers.
BACKGROUND
:
California Species of Special Concern
Adjacent uplands are vital for overwintering and estivation
Most nests are within 50 feet of water.
2 subspecies are recognized
Studies have suggested that these pond turtles may be genetically different in different watersheds
Most active when water temperature is above 59 degrees fahrenheit



Turtle Watch data will also be used as we highlight turtle conservation in our youth education program. We will focus on threats to wildlife and how a healthy stream is essential for the turtles.
With your support w take actions to conserve these amazing critters!

The San Diego River Park Foundation is a 501c3 nonprofit EIN 01-0565671
For more information on this project and ways to get involved, contact our Senior Program Manager, Natalie at
natalie@sandiegoriver.org
or call our office at 619-297-7380.
Provided by CoolFundraisingIdeas.net
THANK YOU
Friends of
Pond Turtles!

---

Anonymous
Louise Streiff
Ramiro Garcia Jr.
Marsha Lyon
Shelby Cunningham
Alissa Hartman
Esther Merki
Brian Griffith
Lisa Celeste
David Hollander


Please let us know if there is an error on this list.

We are happy to correct it!
Send us an email












Gifts are tax-deductible as allowed by law.
EIN 01-0565671




STAY INFORMED
Sign up for our free Newsletter and get up to date information.
Sign up today »