LILLIAN HILL SAVED!


100s of people come together to raise funds to purchase 80 acre property

View to Cuyamaca Peak


Lillian Hill is a very special place with 360 degree panoramic views and incredible wildlife. By buying this remarkable 80 acres it is no longer at risk of being built on, and the healing process can begin. Thank you!
---

You can still join in to be part of this effort as additional funds are needed for the costs of the purchase.

Your donation of $20, $50, or more is really appreciated at this time.

Several levels of donor appreciation available
Donate $1000 and Adopt An Acre (2 remaining) - Learn More


---

Donate Online with PayPal


OTHER WAYS TO GIVE
Credit Card by Phone - Call 619-297-7380 A team member can take your information over the phone and answer your questions. Office is open M-F 9AM - 1:30PM. If we aren't there, please leave a message, and we will call you back as soon as we can.


Check by Mail - Please address your donation to
The San Diego River Park Foundation
4891 Pacific Highway, Suite 114
San Diego, CA 92110
Please note in memo field: donation Lillian Hill


Gift of Stock - Click Here For Details


Donor Advised Funds, IRAs and other
Please email Rob Hutsel, our CEO, to let him know you are processing one of these gifts or grants. Thank you!
---

View from top of Lillian Hill looking down Boulder Creek
Photo by Nathan Weflen
Location:
The property is located along Boulder Creek Road near the 3 Sisters Waterfall between Descanso and Pine Hills.


CLICK HERE for Google Map including property boundaries

Background:
We started working on this acquisition several months ago. We began sharing the project with several people interested in conserving open space. After learning about the property they pledged funds which we combined with funds in our existing Acquisition Fund to have $300,000 available for this purchase so we kept working to secure an agreement.
Finally, on November 29th the owners accepted our terms to buy the property. We had just 25 days to raise the remaining funds needed. One of our wonderful supporters, Bill Kuni, offered to match up to $100,000 in donations and pledges received. Nearly 200 people responded to the challenge, and the match was met on December 21st.

On December 30th the decision was made that enough funds had been raised to complete the purchase. It was an exciting day. Congratulations to all involved!
Funds are still needed to pay for escrow and other costs of purchasing the property.

BACKGROUND:

This property was put on the market as having potential to have up to 5 houses built on its 8 separate parcels. By purchase it, we prevent this from hapenning. We can begin to clean up the property, heal it from decades of use, and create a place where wildlife can roam forever.
The purchase of the property allows what is currently private property to be transformed into open space for critters, trees, native grasslands and more. We will explore maintaining well placed recreation trails which protect wildlife and help heal the land while creating opportunities for people to connect with nature. If you are interested in volunteering to be part of these post-acquisition efforts, please email us or call 619-297-7380.

Special Thanks: Back Country Land Trust for their wonderful partnership on this project and our River Wildlife Club. The Club is made up of passionate people who support conserving open space by signing up for monthly donations. If you are interested in joining the River Wildlife Club, ciick here.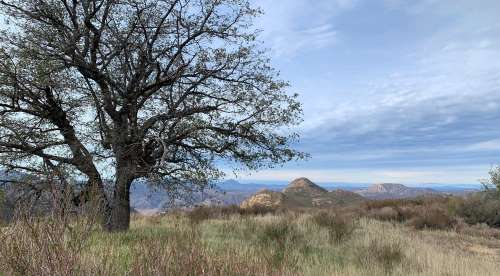 DONOR APPRECIATION
Friends of Lillian Hill
$5 - $99
Receive an invitation to a property dedication ceremony (virtual or in-person) and be listed on this website (if desired).

Lillian Hill Champion
$100 - $499
Receive a newly designed coffee mug plus Friends of Lillian Hill benefits. We will handout the mugs at the dedication ceremony or if you prefer mail it to you (or come by our office) once the property is successfully acquired.
Lillian Hill Defender
$500 - $999
Be recognized with other Lillian Hill Defenders with a plaque on a bench on the property
plus the Friends of Lillian Hill benefits.


---
Adopt an Acre - Be a Wildlife Hero
$1000 - $4999 - initial release has been met! -
2 additional acres have just been released

This is a special, limited offer to adopt one of the 80 acres. Each Wildlife Hero will be recognized at the property for adopting a distinct acre. This is a once in a lifetime opportunity with only 50 opportunities initially available. We may release additional acres.
Adoptions can be made as individuals, groups, families or as a tribute. Wildlife Heroes will also be invited to annual Conservation Society events and outings and invited to the property dedication ceremony. After making a donation, we will contact you to confirm how you would like your donation to be recognized. Of course, this is a ceremonial adoption only as SDRPF will own and manage Lillian Hill.

Are you think about Adopting an Acre as a gift or tribute? We can email or mail you a personalized numbered certificate. Just email us the details for the certificate, and we will send you back the certificate within 48 hours.

Adopt an Acre
DONATE $1000 or More

---
Lillian Hill Steward
$5000 and $9999
Be recognized on the permanent property dedication sign which will be prominently located at the property. Stewards will be invited to be part of the River Park Foundation's Conservation Society for one year and invited to the property dedication ceremony.

Leadership Circle for Lillian Hill
$10,000 and above
Donations at this level will receive prominent recognition on the permanent property dedication sign plus be invited for a guided tour and special lunch with the CEO and SDRPF Board members and staff.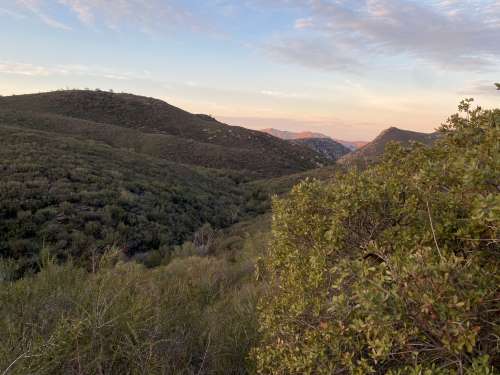 Photo by Mysteri LeMay

Sheep Camp Creek (shown above) traverses the property. This oak lined seasonal creek is a documented wildlife corridor. By acquiring the property the entire creek will be conserved.
Photo by Mysteri LeMay

Acquisition of the property provides opportunities for the public to enjoy this incredible view from the top of Lillian Hill. Conserving land and connecting people with nature fosters a synergy that encourages a community that will be stewards of wildlife.


---
When we raise funds for a specific property acquisition, any donations received above the goal will be used first for unanticipated acquisition expenses. Any remaining funds go into an endowment at The San Diego Foundation to pay for ongoing annual costs (insurance, taxes, etc.) for this specific acquisition and rebuilding our Acquisition Fund.
For more information on our acquisition program, please contact our CEO, Rob Hutsel,
rhutsel@sandiegoriver.org
or call (619) 244-7024..
$3500 in donations are still needed to cover costs associated with the purchase

---
Thank you to everyone who has donated to this effort!


$10,000 and Above
Wildlife Club
Julie and Simon Andrews
Mesa Rim Climbing
Bill & Ann Dahnke
Jill G. Hall
Ensie & Matthias Blume
Bill Kuni
San Diego Foundation
An Anonymous Fund at the San Diego Foundation

$5000 - $9999
Rob Hutsel, Karen Begin and Alex
Chip Owen
Barbara & Jim Peugh
Amy Schmitz & Jeff Pasek

$1000 - $4999
Adopt an Acre
Phil Pryde
Robert Mazalewski
Wayne Seim
Pat Grant
Shankar Shivappa
Tyler Watanabe-Noguera
Peter & Raydene St. Clair
Pierre La Plant
Tracy Weiss &
Terrence Wardell
Lucas & Shannon Worthen
Mark Dodge
Carol & Dennis Wilson
The Debusschere Family
Daisy & Jim Fitzgerald
Jodi & Terry Deane
Richard Ledford
Brian McNeece
Nathan Weflen
Mike Kelly
Glenn Torbett
Pat & Tom Rice
Mike & Meg Schneider
Linda & Alan Harshberger
Allied Climbers of San Diego
Clint & Kim Williams Family
Helene & Alan in memory of Steve Hallock
Cindy & Bill Martin
Stephen H. Porter & Christina Irwin
Jason Folkman
Julie Hocking & Jim Baross
Chris Fenner
Anonymous
Rhea & Armin Kuhlman
Vickie Church
Greg Bowerman & Lisa Rehberger
Cindy & Robert Pencek
Scott Molentin, ASLA
Tom Philippi
TK Investments For The Future
Marie & Todd Ruth
In appreciation and support of City of San Diego Stormwater Department and Think Blue Program ongoing efforts to protect and enhance our watersheds
Linda Espino
Lisa & Jimmy Kiy
Sarah Brightwood remembering Emily Brightwood
Lisa Celeste
Beth Mather
Allen Peugh in tribute to Barbara & Jim Peugh
Saturnino Garcia
Bob & Nga Burkett
Jim Carretta
Cara D"Angelo
Gerald Morris
Claude Petty & Luis Mandujano
Substratum Asset Management, Inc.
Urban Arena
Keith & Kim Mittemeyer



$500 - $999
Patricia Walsh
Steve Weathers
Derek Loranger
Beth Callender
Sally & Peter Nelson
Kathleen & John Stremlau
PubQuest

$100 - $499
Jim & Cathy Potter
Gary Mitrovich
Liz Doroski
Joseph Mayer
Greg Schuett
Doug & Patricia Coe
James Royle
Tripp Sprague
Linda Espino
Nancy Bradbury
Rick Manley
Carl Nettleton
Cindy Buxton
Fred Kramer
Gail & Roger Wynn
Anneli Kyner
Glenn Little
Jodie Hulden
Katherine & John Ellis
Patrick Coleman
Steven Higgins
Brian Hartley
George Gastil
Thomas Harrison
Michael Rodriquez
Steven Weihe
Jerre Stallcup
Jeremy Tuler
Sally Trnka
Juliet & Charles Sykes
Joyce Karel
Kimberly Morse
Mysteri LeMay
Interior Designs by Kay
Ann Sixtus
Shannon Quigley
Andy Krier
Terri Johnson
Susan Smith
William Marsh
Daria Doering
Robert Younger
Margaret McCann
Edinei Dal Bem
Kristin Carter
Anne Elliott
Anonymous
Lindsey Princer
Scott Glaser
Theresa Acerro
Frederick Ashcroft
Kerri De Rosier
Jeffrey O'Connell
Randall Padgett
James Burnett
J. Deming
Wade Blomgren
Richard Larson
Scott Crellin
Jill Pfeiffer
Bobby Glaser
Leah Bentley
The Milton Family
Sarah Axford
Ted Sledzinski &
BJ Withall
Debra & Ramon Reid
Carolyn Plou
La Jolla Rocks
Susan Lisowsky
Sophia Frost
Lindsey Alper
Cindy Burrascano



Up to $99
Christina Rivas
Kathryn Ackley
Leslie Laforest
Katherine Ferguson
Judi Ravetti
Heide Pedersen
Alexander Kunz
Lynn Muhlenkord
Carolyn Barkow
Heidi Evans
Christina Ward
Cary Lowe
Ginger Barharder
Tom Leech
Michael Golden
Brian Nixon
Mathieu Gregoire
Kyle Weinberg
Margaret Payne
Breanne Ederer
Darren Osten
Rae Newman
Connie Beck
Keith Larson
Marie Keech
Acorn & Poppy
Karin Zirk in honor of Dr. Joseph Steinbach
Kimber Husak
Barbara Forbes
Scott Wahl
Emily Herriott
Patricia Moses
Tom Wallace
Carolisa Morgan
James Royer
Pamela Williams
Charles Daleo
Erik Hauenstein
Maureen Ostrye
Myra McWethy
Carol Gilbertson
Elizabeth Devin
Emery Carino
Paul Woolery
Jessica Friis
Robert Merrill
Adam Prince
Anthony Depaul
Michael Lysik
Bob Self
Phyllis Berger
Jeffrey Mason
Rita-Maria Kafalas-May
Isabella Lopez-Powers
Corrine Bassett
Jodi Masumoto
Kathy Hatch
Lois & Lee Fetzer
Frank Landis
Mirjam Schippers
Bryan Furbee
Janet Gonzales
Renee Woodard - in tribute to Roy A Woodward who is still giving to his community
John Zarem
Laura Hampton
Judith Nicolaidis
Robert Little
Alex Hutsel
Patricia Herron
David Morrison
Dawn Shaffer
Anonymous
Donald Hill
Linda & Kerry Teeple
Adam Russnogle
Rachel Sarner
RadResale
Mary Duffy
Business Concierge
Sandra Castellanos
Marti Krane / Creators' Rep
William Yoggerst


SPECIAL THANKS
Back Country Land Trust for the financing support.


Updated: 1/2/2023

Includes donations and pledges received

Please let us know of any errors in your listing so we can correct them. Thanks!


Gifts are tax-deductible as allowed by law.
EIN 01-0565671




STAY INFORMED
Sign up for our free Newsletter and get up to date information.
Sign up today »