Forester Creek Project
A Major Tributary of the San Diego River
Every Family Deserves Access to Clean, Healthy Nature
---
The San Diego River Park Foundation is working with community volunteers to create a better future for Forester Creek!




Forester Creek is an 11-mile-long tributary of the San Diego River. This creek and its three tributaries flow through the City of El Cajon in cement channels, where it is fenced off, running "behind" businesses and residential areas.


The Forester Creek System is considered to have the lowest water quality of any of our River's tributaries, and its surrounding community is under-parked, according to national and state metrics. This means that there is not enough park space to serve the local population.
Click here
to see a short video following along Forester Creek and the San Diego River Park's involvement with the creek and community.
We worked with the City of El Cajon and other partners to engage members of the public in a participatory planning process, resulting in a Recreational Access Plan for Forester Creek Imagine every family with access to a parks and a greenbelt along the Creek.
The (388 page) Forester Creek Recreation Access Plan is available for download here.
The Forester Creek Recreation Access Plan was created with feedback from over 1,000
El Cajon residents, recommendations from a committee of community stakeholders, and the expertise of Landscape Architects at 606 Studio at Cal Poly Pomona!  This document is a strategic blueprint for creating an interconnected network of schools, parks and creek-side open spaces, in an effort to improve the future of Forester Creek while also improving recreational access for El Cajon.
Have thoughts about the future Forester Creek and recreation opportunities in El Cajon?
Click here to provide feedback.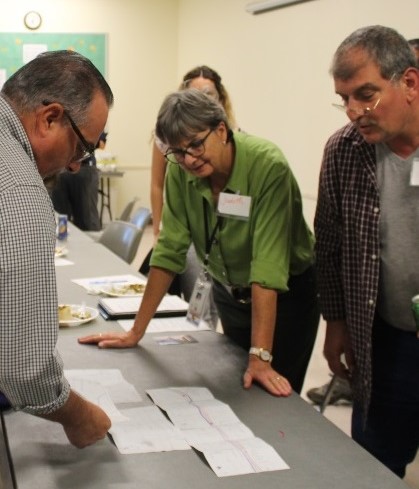 Next steps:
Spring 2020: Implementation planning and begin implementation of small-scale projects
Get involved!
Want to help create a better future for Forester Creek?
Stay informed by signing up for our email list here!
Join our Recreation Access Plan Implementation Committee to help make the plan a reality!  This committee will meet quarterly.
Volunteer to improve the health of Forester Creek or help build recreation amenities.
To get involved or learn more about this project, email us or call (619) 297-7380.

Funding for this project as well as youth education and trash mitigation programs in El Cajon was provided by the State of California in partnership with the San Diego County Water Authority.
Our thanks for assistance with translation of materials, provided by:
| | | | |
| --- | --- | --- | --- |
| | | and | community volunteers |

Stakeholder Committee


Afrah Abdulkader
International Rescue Committee

Samarah Abdulkadhim
Resident Leadership Academy

Cristina Aguirre
Youth and Leaders Living Actively

Rafal Al Bayati
Resident Leadership Academy

Rosa Alcaraz
community advocate

John Allen
Friends of Forester Creek

Amir
Student

Asonta
Student

Gabriel Boquiren
Taylor Guitars

Shannon Bullock
City of El Cajon

Deon West
Outdoor Outreach

Ernest
Student

Michael Golden
Grossmont College

Zac Hansen
County of SD Health and Human Services

Ibrahim
Student

Kara
Granite Hills High School Earth Club

Cindy Knight
Cajon Valley Union School District

Crystal Lawrence
Taylor Guitars

Eldonna Lay
El Cajon Historical Society

Eric T. Lund
SD East County Chamber of Commerce

Taryn Mani
Cajon Valley Union School District

Phil Ortiz
El Cajon Community Clean Up Group

Eva Pacheco
EJE Academies

Kathy Pillman
El Cajon Community Clean Up Group

John Phillips
City of El Cajon

Dina Polus
Newcomers in Action

David Raponi
El Cajon Community Clean Up Group

Steve Richardson
The Toro Company

Lakeysha Sowunmi
Safe Routes to School

Mohammed Tuama
Newcomers Support and Development

Hector Valtierra
Cuyamaca College
Carol Lewis  
El Cajon Collaborative
Dennis Selder Southwestern College