New Year, New Clean-Up Challenge!
Join us in making a resolution to safely get outside while making a difference for the San Diego River!
Every year, hundreds of thousands of pounds of trash wash into or are deposited into the riverbed. You can join the efforts for a clean river (and get some exercise at the same time) by hitting the sidewalk, trail, or walkway with a trash bag or bucket!
Here's how it works: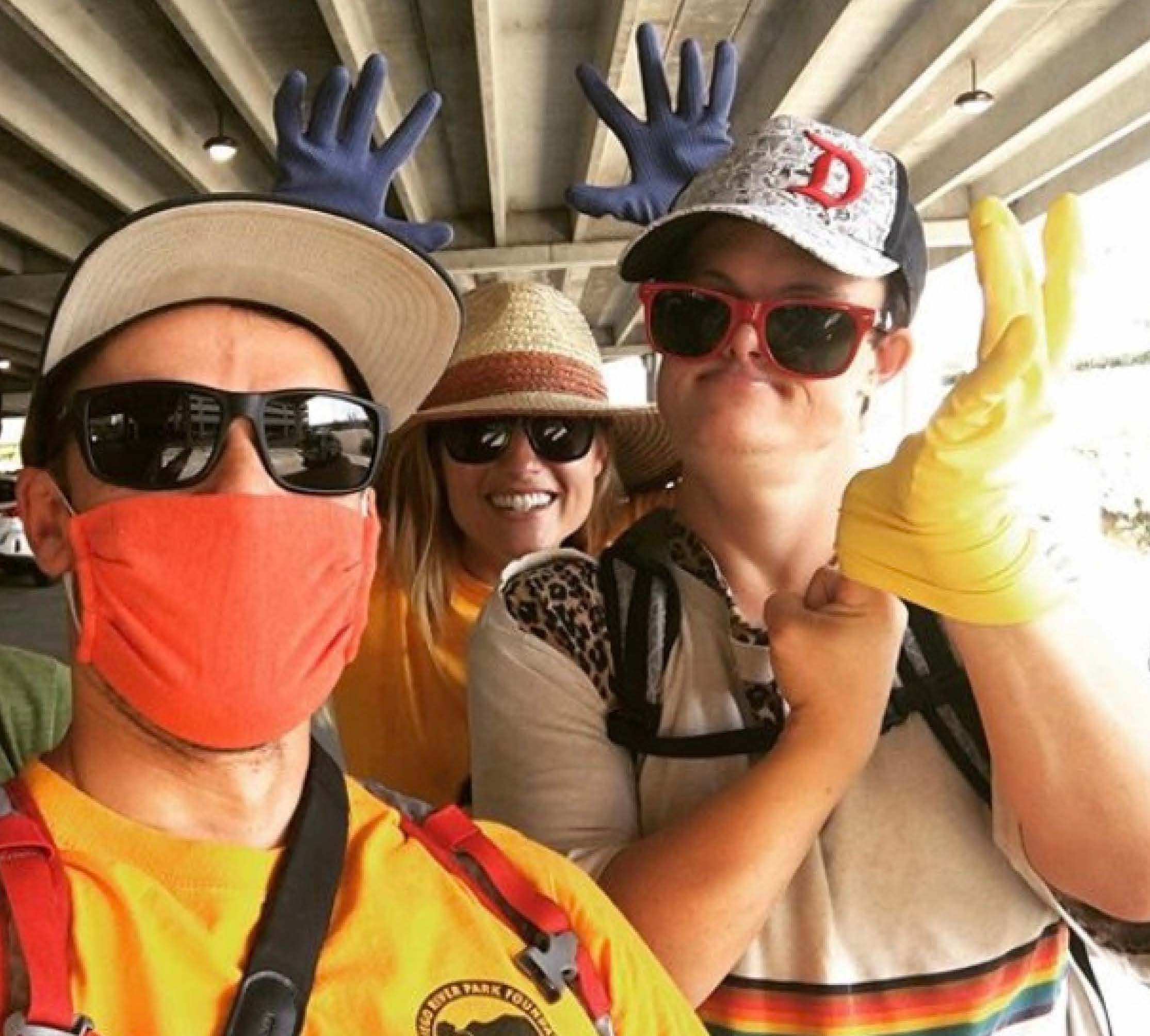 1. Find a buddy!
Cleaning with a buddy or two is always best. It's safer and more fun too!
2. Choose a location
3. Gather your gear
You'll need clean-up and safety supplies: protective gloves, trash bag(s) or 5-gallon bucket, and trash-pickers (tongs work great too!). Like any hike or long walk, we also recommend bringing sunblock, first aid kit, insect repellent, drinking water, hat, good shoes, hand sanitizer, and a camera!
Make sure you print (or save to your phone) the Virtual Trash Challenge BINGO card to be eligible to win prizes! Click to see full-size PDF!
4. Conduct your clean-up, dispose of trash
Pick up litter and any other items you find that do not belong in the natural environment, especially plastic!
Since you will be taking care of disposal yourself, it's always a great idea to do your clean-up the day before trash day. Also, be mindful not to collect more than you can transport back home.
Remove only man-made items. Do not touch dead or injured animals. If you come across an injured animal, call a wildlife resource such as Project Wildlife for more information about what you can do.
If you find household hazardous waste (such as paint or batteries) or e-waste, our friends at ILCSD have put together a great tool to help answer your questions. If after looking there you have more questions feel free to reach out to our clean-up team.
5. How to Win!
The first 300 people to get BINGO in 2022 (5 in a row: diagonal, vertical or horizontal) will win a challenge sticker!
The first 5 people in 2022 to complete the WHOLE BOARD (all 25 squares!) will win a Hydroflask.
Log your clean-ups by taking selfies for each square!
Complete this form to claim your prize!
Important Safety Notes!
Always best to clean with a buddy
Stay on public sidewalks and trails
Wear gloves to protect you from anything you may be picking up. We recommend leather gloves.
Never put your feet or hands into holes, there might be critters home!
Please do not pick up syringes, needles, glass or sharp objects.
In accordance with federal, state, and local guidelines, please wear a mask during the duration of your clean-up. Be mindful to step away and give others space if you need to remove your mask to take a break or get a drink of water.
While buddies are always encouraged, public health guidelines recommend that you only have close contact with people in your household/pod; maintain at least 6 feet of distance from other walkers or trail users.
Our mission is a TRASH-FREE San Diego River!
We know this will take all of us doing our part, and we cannot wait to engage volunteers like you in a new way! Welcome to the river family, come join in on the family fun!
VOLUNTEER NOW
Help us keep the River beautiful for the next generation.
Volunteer now »

STAY INFORMED
Sign up for our Newsletter and get up to date information.
Sign up today »