Eagle Peak Ranch - Last Payment Due Jan 15, 2020
Will You Join With Us to Protect This Valley?
---
The South Rim Conservation Area from Jim Karnik Films on Vimeo.
Eagle Peak Ranc
h is a wonderful valley which includes Temescal Creek. Over several acquisitions the Ranch has grown to 454 acres. Different sections of the Ranch are known as Homestead, Gateway, Overlook and the Creek.
When we first learned that the Ranch was available for purchase, it was being marketed as a potential site for several estate homes. We knew of the Ranch's incredible beauty as one of the few remaining largely intact valleys in the region. We also knew of the property's immense wildlife value. So we had to act fast. With lots of support, funds were raised to put a deposit down to put the property in escrow. We secured a loan of $807,000 from the Conservation Fund, a national nonprofit organization. An amazing community of people came together to raise the remaining funds neeed to complete the purchase. Over time we made a significant payment and continued to raise funds toward the loan. Now, we have just over $100,000 left to raise before Jan. 15, 2020. We invite you to join us as we race against the clock to preserve this incredible property.
$126,087 is a great deal of money to raise. But with your support we can do it. A gift as little as $10 or $20 when combined with 100s of other gifts of all different amounts will get us there, but we need you.
Please consider donating what you can today!

The property was acquired to conserve the valley and protect the Creek. The property contains the source of Temescal Creek which flows to the Upper San Diego River Gorge. The Ranch offers tremendous potential for recreation, education and research. If you are interested in learning more about these opportunities, please let us know!


Help Us Pay Off the Financing That Helped Saved This Amazing Ranch



Donations:

Donate by Credit Card by phone at 619-297-7380 (M - F 9AM - 5PM)
Donate by Check:
The San Diego River Park Foundation
PO Box 80126
San Diego, CA 92138
check memo: Eagle Peak Ranch

All donors will be recognized on this page (unless you prefer to remain anonymous).
As a 501c3 nonprofit all donations are most appreciated and tax-deductible as allowed by law. EIN 01-0565671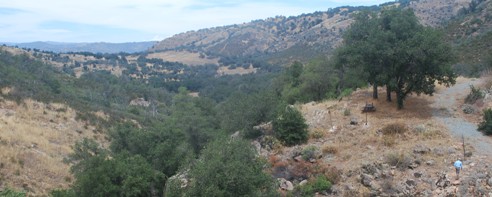 Location: on Eagle Peak Road and Boulder Creek Road
Click here for Google Map

Conservation and Recreation Values:
Cultural sites
Regional trail extension - hiking, equestrian and biking
Incredible views
Engelmann, Black, Live and other oak woodlands
Significan wildlife corridors & linkages

Natural springs
Creek restoration opportunities
Education Programs

Volunteer Opportunities:
Wildlife Camera Monitoring
Preserve Management
Trail Management Team
Outings Leader

Email us for more information about getting involved as a volunteer
volunteer@sandiegoriver.org
.
Visiting
: To learn more about how to visit these and other sites, check out our list of
places to go
.
Provided by CoolFundraisingIdeas.net
Thank You
Donors
$1000 and above
Rob Hutsel

$500 - $999
be the first

$100 - $499
be the first!

$10 - $99
be the first

Please let us know of any errors or omissions!