The Campaign for Eagle Peak Ranch
Bobcat enjoying a morning walk at the Ranch


The Campaign for Eagle Peak Ranch
Imagine a lost valley with deer running through it. A place with abundant wildlife and room for people to explore. This is Eagle Peak Ranch - a 299 acre wild oasis just a few miles from Pine Hills and Julian.
A few year round springs feed a stream which ultimately builds until it drops into the incredible Upper San Diego River Gorge. More than a century of cattle grazing has left its imprint on the valley including a large pond and several seasonal ones.

Eagle Peak Ranch is a wonderful valley which includes Temescal Creek. The purchase of this Ranch took several years but the dream was worth it. People came together to save this valley from development which would ruin the biological and scenic integrity of the area. To acquire and conserve this beautiful valley several loans needed to be secured to raise the $1.3 million purchase price. With the support of many, all but one $300,000 loan has been paid off. Your gift today can help remove this burden and secure the future of this amazing valley.

Will you join us for the Campaign for Eagle Peak Ranch?


Donate Today
and help care for the Ranch for tomorrow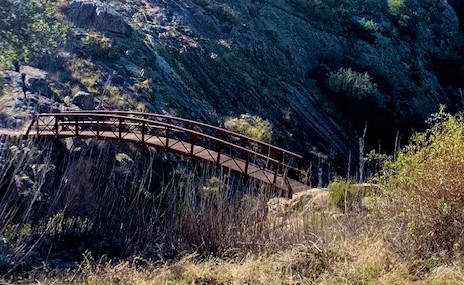 Temescal Creek Bridge in a stunning setting


Other Donation Options:

Donate by Credit Card by phone: call our CEO Rob Hutsel at 619-244-7024


Donate by Check:
The San Diego River Park Foundation
PO Box 80126
San Diego, CA 92138
check memo: Eagle Peak Ranch


Make a Stock Donation: learn more

Include the Ranch in your will, IRA or other estate plans: learn more
Funds will be used to care for this incredible property.

As a 501c3 nonprofit all donations are most appreciated and tax-deductible as allowed by law. EIN 01-0565671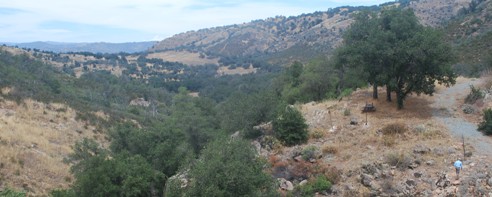 A view from one of the Ranch's vista points.

Location: on Eagle Peak Road and Boulder Creek Road
Click here for Google Map
* marks the property on the map below


Conservation and Recreation Values:
Cultural sites
Regional trail extension - hiking, equestrian and biking
Incredible views
Engelmann, Black, Live and other oak woodlands
Significan large mammal wildlife corridors & linkages
Cougar, badger, deer, bobcat, fox and other species

Natural springs
Creek restoration opportunities
Education Programs

Volunteer Opportunities:
Wildlife Camera Monitoring
Preserve Management
Trail Management Team (on hold until the pandemic allows)
Outings Leader (on hold until the pandemic allows)


Email us for more information about getting involved as a volunteer volunteer@sandiegoriver.org.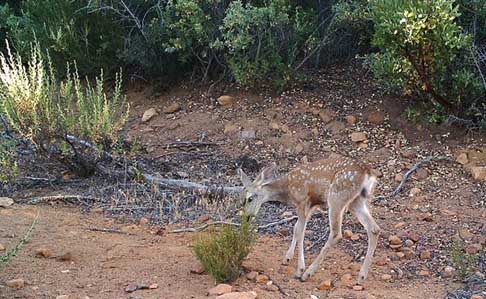 Each spring we can expect to see fawn and cubs at the Ranch. This fawn was captured at one of the Ranch's wildlife cameras.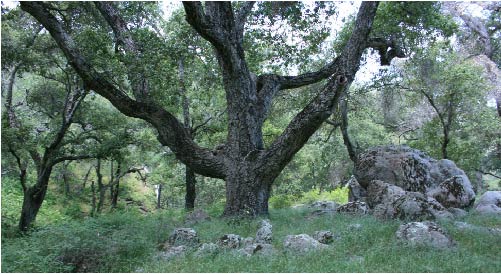 Beautiful live, Engelmann and black oaks are throughout the property.
Donation Recognition are available. Please inquire!

* Special opportunities can be created for a donation of $10,000 or more. Please contact Rob Hutsel, our CEO, to discuss opportunities. 619-244-7024 or rob@sandiegoriver.org

Thank You
Donors to Campaign!